I promise you one thing, young lady. Building a fence is not going to keep the world out and won't keep your children in. Life's not that simple.
And so begins Meredith Jaffe's The Fence.
Writer and occasional book critic Meredith visited Booktpia recently to chat about The Fence, a book about the tensions that can erupt between suburban neighbours who don't share the same values. Wendy Harmer's called it a "keenly observed satire on the boundaries we set. Good fences make good neighbours. Or do they?"
Caroline Baum, who reviewed the book called it "a mischievous treat for anyone who has ever had tricky neighbours. A welcome new talent." Listen to the podcast and read Caroline's full review below.
This slideshow requires JavaScript.
Review by Caroline Baum
You don't have to be a green-fingered gardener to appreciate the poison ivy tone of this social comedy about the tensions that can erupt between suburban neighbours. It's a perennial favourite for writers – fertile soil for satire and conflict. Botanically speaking, Jaffe is of the same popular species as Liane Moriarty: let's call it by its Latin name: Hortus Nastyus Domesticus. A deceptive native shrub with dangerous spines concealed beneath showy blooms.
Secateur sharp snipings erupt between older resident Gwen Hill (you can tell her age from her name – no one is called Gwen these days) a gardening columnist, and the new family that moves in next door with all their superior attitudes on show. Their number one failing is that they are clearly not gardeners. Francesca Desmarchelliers is a pressured professional who has moved her family out of the city following her husband Brendan's affair. But the change of scenery has done nothing to restore family harmony.
Before you can say xanthorrhea (that's grass tree to you non-gardeners), a fence goes up between their two properties and war is declared. Mediation follows. While Frankie plays dirty, embattled Gwen is faced with an increasingly confused husband Eric, who embarks on a snail farming project although it is his skill making dollshouses that attract the two little girls from next door.
Jaffe has a keen sense of how small hostilities can escalate into full out turf warfare and how poisonous it can be living next door to people who don't share your values. Her mischievously acute observation will resonate with anyone who's been involved in a border dispute.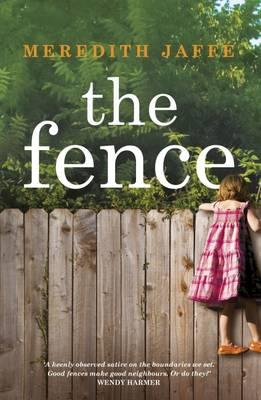 The Fence
Gwen Hill has lived on Green Valley Avenue all her adult life. Here she brought her babies home, nurtured her garden and shared life's ups and downs with her best friend and neighbor, Babs. So when Babs dies and the house next door is sold, Gwen wonders how the new family will settle into the quiet life of this cozy community.
Francesca Desmarchelliers has high hopes for the house on Green Valley Avenue. More than just a new home, it's a clean slate for Frankie, who has moved her brood from Sydney's inner city to the leafy north shore street in a bid to save her marriage and keep her rambunctious family together. To maintain her privacy and corral her wandering children, Frankie proposes ...
About the Contributor
Anastasia Hadjidemetri is the former editor of The Booktopian and star of Booktopia's weekly YouTube show, Booked with Anastasia. A big reader and lover of books, Anastasia relishes the opportunity to bring you all the latest news from the world of books.