It was a week ago today that Harry Potter and The Cursed Child was released to eager Potterheads, both in Australia and internationally. Some readers pre-ordered the script book months in advance, others swarmed their local bookstores at the release time.
The result? Harry Potter and The Cursed Child is now officially the fastest-selling book in a decade. The book that previously held this title was Harry Potter and the Deathly Hallows. Cursed Child is also the fast-selling script book. Ever.
In the first three days since the script book's release, Harry Potter and The Cursed Child sold over 170,000 copies in Australia. In 2015, only 5 other books sold over 170,000 copies in the entire year. In the UK, 680,000 copies were sold in the first 3 days. The North American market sold over 2 million script plays in the first 2 days.
Booktopia's very own John Purcell, Head of Marketing and Chief Buyer said:
"Harry Potter and the Cursed Child exceeded our expectations. The initial rush of pre-orders on the announcement of the book in February should have been a clear sign of interest but we are a cautious bunch and watched and waited. Soon we had enough pre-orders to know that this would be the biggest book of the year.
We placed the largest single title bulk order we've ever placed – 6,000 books. This is more than twice the size of our orders for E.L. James's 2015 hit Grey, and Harper Lee's Go Set a Watchman. But then, as publication day approached we realised we were way out and had to order more! We added another 2,000. And even then we sold out.
The day after publication we placed another bulk order and three days later another. Harry Potter and the Cursed Child is a bonafide hit with readers. Reviews are great, the book is still in the press, everyone is clamouring for a copy. We are selling hundreds a day. Harry is back!"
Sharyn Villaverde, Senior Category Manager at Dymocks said:
"We've had an unprecedented response to the release of Harry Potter and the Cursed Child with our biggest first day sales in nearly a decade. The Harry Potter legacy is phenomenal with fans keen to get their hands on this new book as soon as possible.
It has eclipsed all pre-order and first day sales since the release of the last book in the Harry Potter series, with first day sales well beyond titles such as Dan Brown's Lost Symbol and Harper Lee's Go Set a Watchman. Customers of all ages are excited about it and we're expecting really strong sales right through to Christmas. It's definitely our book of the year."
Mark Rubbo, Manager Director of Readings said:
"As booksellers, we were a bit sceptical about whether fans would embrace a play script. We shouldn't have been! The magic of Harry Potter burns as brightly as ever. We were astounded and thrilled when 800 fans turned up for our celebration in Lygon Street Carlton and it truly was a joyous occasion with people in wonderful outfits brimming with excitement."


Hachette Australia, the publishers of Harry Potter and the Cursed Child celebrate the release of the script book: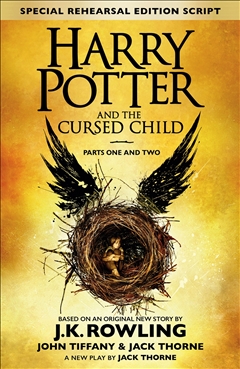 Harry Potter and the Cursed Child
J. K. Rowling, Jack Thorne, John Tiffany
The eighth story. Nineteen years later.
Based on an original new story by J.K. Rowling, Jack Thorne and John Tiffany, Harry Potter and the Cursed Child, a new play by Jack Thorne, is the first official Harry Potter story to be presented on stage. It will receive its world premiere in London's West End on 30th July 2016.
It was always difficult being Harry Potter and it isn't much easier now that he is an overworked employee of the Ministry of Magic, a husband, and father of three ...
About the Contributor
Anastasia Hadjidemetri is the former editor of The Booktopian and star of Booktopia's weekly YouTube show, Booked with Anastasia. A big reader and lover of books, Anastasia relishes the opportunity to bring you all the latest news from the world of books.