As an obsessed fan for almost 18 years, the Harry Potter and The Cursed Child book release was always going to have a special place in my heart.
Of course, it's a script so I was wary the story would be told in a vastly different form. But words cannot capture the majesty of the 8th story. The characterisation, the light, the plot – for those familiar with the journey of Harry, the continuation is an art form.
Whether you've read all the books or only seen the films, Cursed Child holds its own in a heartland of magic. What I loved most was the exploration of Harry's past; it was honest and beautiful. In general, the script was a brutal but humble assessment of the real psychological impact events had on the characters, while still capturing the familiarity of the trademark Rowling world.
I don't want to divulge any spoilers, though I will say this – we have all had moments in our lives where things changed in a split second and as an afterthought considered: what if I could change that? What I adored was the way that was explored in the script. It's a story you walk away moved by, and the empathy it calls upon melts your heart.
This story is an emotional journey; for those overly invested like me, keep tissues handy.
I have never gone through as many different emotions as I did in the five hours it took to read it. I have heard certain people say they felt the editing was lackluster in the last couple of books, and in my opinion, Cursed Child is a stark contrast to that. There's a clear focus, with multiple plot lines all converging perfectly.
When I finished reading Deathly Hallows, my intense love and fascination with Harry was still not fulfilled. I wanted to know about life beyond Hogwarts. I wanted to know where all my favourite characters would end up. After the last book I mourned for months, despite how well everything was.
For a period of my childhood, Harry and co. were the closest things I had to friends, and in 2007 when we had to part ways, I had so many unanswered questions. Reading Harry Potter and The Cursed Child felt like the perfect way to say goodbye. I had no questions left to ask, just a genuine peace and understanding that this was how things were meant to be. I found closure. And that's all I ever asked for.
Originally posted on: Confessions of the Obsessed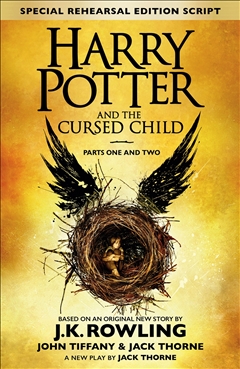 Harry Potter and the Cursed Child
Harry Potter Series: Book 8
The eighth story. Nineteen years later.
Based on an original new story by J.K. Rowling, Jack Thorne and John Tiffany, Harry Potter and the Cursed Child, a new play by Jack Thorne, is the first official Harry Potter story to be presented on stage. It will receive its world premiere in London's West End on 30th July 2016.
It was always difficult being Harry Potter and it isn't much easier now that he is an overworked employee of the Ministry of Magic, a husband, and father of three school-age children.
About the Contributor
Emily is Booktopia's resident eBook Merchandiser and music nerd. Obsessed with all things Harry Potter, dogs, biographical and digital; she occasionally talks too much and worked in customer service in a previous Booktopian life. When she's not obsessing over one of her many loves, she's out taking photos or trying to write self-deprecatingly witty things.