With less than 12 hours left before Harry Potter and the Cursed Child is released in Australia, Booktopians reveal what Harry Potter means to them …
Sarah McDuling
I was first introduced to the Harry Potter series the night before my Ancient History exam for the HSC. Some might describe my decision to start reading a popular children's book series the night before an HSC exam as blatant procrastination. I prefer to call it the best decision EVER!
I remember the crazy anticipation leading up to the release of Harry Potter and the Deathly Hallows, and how the whole world seemed to be sharing in the excitement. For weeks after the book came out, I would see people carrying their copies around in the streets, reading at bus stops and train stations. I remember exchanging knowing looks with strangers on public transport, sharing a moment of solidarity over the fact that we were both holding copies of the same precious book.
But by far my favourite Harry Potter memory is the horror I felt when a sudden blackout interrupted my first ever reading of Harry Potter and the Deathly Hallows. Just as I got to the final battle between Harry and Voldemort, all the lights in my house went out and I was plunged into highly inconvenient darkness. I tried reading by the light of my phone but found it too awkward to hold the phone and turn the pages at the same time. After a mournful wail of despair, and some passionate swearing, I had a brainwave. Candles!
And so I finished reading Deathly Hallows bathed in the gently flickering light of an assortment of scented candles. It was an amazing (if somewhat overpoweringly fragrant) experience! I highly recommend reading Harry Potter by candlelight. It made me feel like a student at Hogwarts!
---

Emily Winter
My parents have had many great ideas over the years. Having me was the first. Teaching me how to read with the Harry Potter series was second.
I remember that feeling of coming home to Hogwarts with each turn of a page like it was yesterday… or maybe because it was. For almost twenty years I have been emotionally invested in the adventures of Harry, Ron and Hermione.
By the age of eight I was reading The Goblet of Fire alone; Harry gave the child in me friends when she knew none. My colleagues think I'm hilarious because I wear my house colours to work, but little do they know this Ravenclaw is not joking. Harry Potter isn't just a book. It's a lifetime investment. Just like a Hogwarts education.
---

Ashley Sime
I clearly remember the first time I was introduced to the legendary Harry Potter series. I was 7 years old, sitting at my desk in my third grade classroom, listening to my classmates discuss the release of the fourth book, The Goblet of Fire. All I had to hear was 'it's a book about witches and wizards, magic and all sorts of cool things!' and I was sold.
After school that day, I raced home to my mum and asked her to buy it for me. As soon as I received it, that was it… I was lost to the world of witchcraft and wizardry. I read it on the train to and from school, till late at night in bed, and at any time I had free to immerse myself in its wonderful, mystical happenings.
Since then, I've re-read the entire series two or more times a year. I'd also read through them all before the release of a new book – it was my tradition!
---
Tracey Mills
The best part of working with books is seeing customers fall in love with the books that you love; Harry Potter offered that in spades. As the hype grew and more and more people fell under J. K. Rowling's spell, the more fun it became for me. Seeing people's excitement as we unpacked the cartons (previous books), handing out dozens and dozens of copies into eager grasping hands; watching as people immediately started reading – completely oblivious to the world around them. Completely oblivious to the agony of us booksellers who had to see the cartons sitting in the stockroom, knowing we couldn't touch them until release day. (All the while secretly wishing for a copy of the book, a comfy hiding spot and a few uninterrupted hours to savour the joy only a new Harry Potter could bring!)
For so many of us, a Harry Potter release day was better than every Christmas ever, rolled into one! For me the books  took me back to the adventure stories I loved most when I was a child – they are truly magical.
---

Emily Meredith
My most vivid childhood memories revolve around Harry Potter. The best was dressing up for the releases of each new book and movie with my friends – Harry Potter was one of the fundamentals of our friendships.
The worst was having my mother withdraw my Harry Potter privileges when I was bad – I didn't get to start the last book until it had been out for a full twelve hours! Take heed: don't antagonise your siblings in front of your parents!
Harry Potter was and still is the most magical thing to ever happen to me, as a little girl who spent her lunchtimes in the library. I will forever be grateful to JK Rowling for making reading cool. Her stories are the main reason I have friends, and a job working with books.
---
Hayley Shephard
I could never reach the end of many books people gave to me as a child. The slow start of each book didn't encourage me to continue reading. However, due to the craze surrounding the Harry Potter books I didn't want to be left out…so I read them.
Book after book, I came to realise I was reading for my own enjoyment. The Harry Potter series made me realise that a book just got more and more interesting as you kept reading. Basically, Harry Potter is the reason why I love reading today.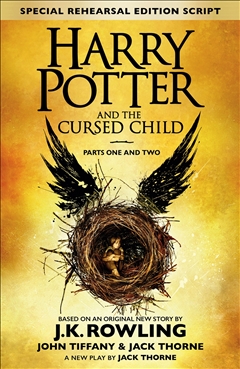 Harry Potter and the Cursed Child - Parts I and II
Harry Potter Series: Book 8
The eighth story. Nineteen years later.
Based on an original new story by J.K. Rowling, Jack Thorne and John Tiffany, Harry Potter and the Cursed Child, a new play by Jack Thorne, is the first official Harry Potter story to be presented on stage. It will receive its world premiere in London's West End on 30th July 2016.
It was always difficult being Harry Potter and it isn't much easier now that he is an overworked employee of the Ministry of Magic, a husband, and father of three school-age children.
About the Contributor
Anastasia Hadjidemetri is the former editor of The Booktopian and star of Booktopia's weekly YouTube show, Booked with Anastasia. A big reader and lover of books, Anastasia relishes the opportunity to bring you all the latest news from the world of books.