Isla Fisher's come along way since her Summer Bay days. Starting out on Home and Away, she's since starred in a host of Hollywood blockbusters and shared the limelight with the biggest stars on the planet. She's married to funny-man Sacha Baron Cohen and had three children. Oh, and you may have seen her on all those ING commercials …
Now she adds children's book writer to her impressive list of achievements, with her first book, Marge in Charge, available to pre-order.
Marge is not your average babysitter. She may look very sensible and VERY small, but once Jemima and Jake's parents leave home, Marge becomes mischievous. She takes off her hat to reveal a mane of rainbow-coloured hair, she feeds Jemima and Jake chocolate soup, races snails, and mixes potions in the bath! But if Jake and Jemima want her to babysit again, it's time for them to take charge of Marge, tidy up and settle her down for a little sleep. As we said, Marge isn't your average babysitter.
Isla's niece reading Marge in Charge
Marge in Charge
This is a hilarious, charming and anarchic first book from an Aussie actress and comedian who revealed on The Project today that writing was in fact her back-up career. She's always been a storyteller and a believer in the importance of storytime in connecting families. So it was only natural that she would eventually pen her own books. Hence Marge in Charge. 
Isla also revealed on The Project that she in fact lives vicariously through her character, Marge. In the Cohen household she has to be responsible and sensible; in the book she becomes every child's dream.
On a recent trip to London, Booktopia's very own John Purcell, Head of Marketing and Chief Buyer, met the self-proclaimed small ginger ninja. See picture above (John Purcell: Right)
Grab your signed copy of Marge in Charge. Available while stocks last.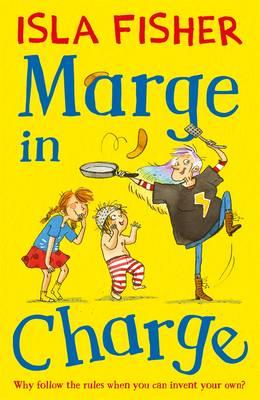 Marge In Charge
Jemima and Jake's new babysitter doesn't look too promising. In fact she looks very sensible, very old and VERY small (she only comes up to daddy's armpit!). But the moment their parents leave the house, Marge gives a mischievous wink, takes off her hat and reveals a marvellous mane of rainbow-coloured hair!
Marge really is a babysitter like no other and the children spend a wild evening with her - racing snails, slurping chocolate soup and mixing potions in the bath! But if Jake and Jemima want her to babysit again it's time for them to take charge of Marge, tidy up and settle ...
About the Contributor
Anastasia Hadjidemetri is the former editor of The Booktopian and star of Booktopia's weekly YouTube show, Booked with Anastasia. A big reader and lover of books, Anastasia relishes the opportunity to bring you all the latest news from the world of books.