The Booktopia Book Guru asks
Lexi Landsman

author of The Ties That Bind

Ten Terrifying Questions
____________
1. To begin with why don't you tell us a little bit about yourself – where were you born? Raised? Schooled?
I was born in Johannesburg, South Africa and spent my weekends on our family vegetable farm on the Vaal River. My early imagination was fostered there from the hours I spent wandering through the corn fields, picking fruit in the hot houses, climbing fruit trees and bringing back vegetables to cook for lunch. It was the highlight of my childhood.
After a terrifying hijacking, my parents decided to immigrate to Australia for a safer life. We moved to Sydney when I was twelve and fully embraced our beautiful, seaside home.
2. What did you want to be when you were twelve, eighteen and thirty? And why?
When I was twelve, I desperately wanted to be an actress. That's when I started writing, but back then, it was poems and short monologues. At eighteen, I still wanted to be an actress but I was also interested in filmmaking and the art of storytelling. At thirty, I wanted to be twenty again! But mostly, I wanted to be a novelist and continue working as a producer in television.
3. What strongly held belief did you have at eighteen that you do not have now?
That the world was my oyster and anything was possible. I didn't realise then that nothing happened quickly or without bloody hard work.
4. What were three works of art – book or painting or piece of music, etc – you can now say, had a great effect on you and influenced your own development as a writer?
Frida Kahlo's emotive self-portraits really touched a nerve with me and I found it hard to fathom that a person could endure so much suffering. What I took from them was her ability to create something beautiful out of something tragic. Even when she was bedridden, she found a way to set up her easel and continue painting.
I read The Blind Assassin by Margaret Atwood while travelling through Europe and the characters stayed with me long after I finished reading it. I was just enamoured by the way her words hold you to the page, her ability to create a layered narrative and her exceptional storytelling skills.
I saw a brilliant production of the play August: Osage County at the Sydney Theatre. The Pulitzer Prize-winning script by Tracy Letts is a literary masterpiece. I particularly liked that the story was built around strong female characters and the pervading notion of secrets that wrap themselves around this dysfunctional family.
5. Considering the innumerable artistic avenues open to you, why did you choose to write a novel?
I started novel writing when I was 21 and couldn't stop. It became an addiction, a passion – something I couldn't not do. Novels are such a unique form of escapism. I love being lost in a fictional world and creating characters. I think artistic avenues are so intertwined and feed into each other. For me, it was a natural progression that my love of writing, theatre and painting led to novel writing.
6. Please tell us about your latest novel…
The Ties That Bind follows two women on opposite sides of the world whose lives are changed forever. One by the smallest bruise. The other by a devastating bushfire. And both by a shocking secret.
Miami art curator Courtney Hamilton's world comes crashing down when her 10-year-son is diagnosed with leukaemia and told that his best chance of survival is a bone-marrow transplant. With Courtney being adopted, she makes the difficult decision to go in search of her biological parents, hoping that they might be a match for her son.
In Australia, Jade Taylor fights to save her home and beloved olive groves from terrifying bushfires that threaten to decimate her small town. Both women are forced to make impossible choices or risk losing the very things they love. And when they do, a chain of events is set in motion that challenges everything they thought they knew.
As Jade rallies her fractured family to rebuild their lives, Courtney arrives in the burnt countryside to search for her lost parents – but discovers far more than she ever imagined…It's a story about secrets and lies, love and betrayal, forgiveness and redemption.
7. What do you hope people take away with them after reading your work?
My greatest hope is that it moves readers and draws them into the characters' worlds so that they become invested in their story and don't want to put the book down. I wanted to convey the depth of emotion these characters endure and give insight into the types of personal tragedies people deal with every day, from health to heartache. I hope it makes people think about the difficult decisions we are often forced to make and the secrets we choose to keep.
8. Whom do you most admire in the realm of writing and why?  
I am in awe of Alice Hoffman's skilful storytelling, dynamic characters and the beauty of her writing. I particularly admire her novels with strong female characters like The Dovekeepers and The Marriage of Opposites that transport readers back in time.
I've been reading Jodi Picoult novels for as long as I can remember. What I find remarkable is that she is able to produce a book a year and always manages to create thought-provoking narratives, with compelling characters and intriguing plots. She writes beautifully and her characters are always fully formed with distinct voices.
Some of my other favourite authors include Geraldine Brooks, Paullina Simons and Diane Armstrong.
9. Many artists set themselves very ambitious goals. What are yours?
At the moment, my biggest goal is to finish my second novel by the end of the year. With a baby on the way and working full-time, it's proving to be a major challenge!
10. What advice do you give aspiring writers?
Persist. Persist. Persist. It can be incredibly challenging to stay motivated but the key is to keep writing and to read widely. To attempt novel writing you've got to be in it for the long haul, ready to work hard and open to positive criticism. Rejections can be tough but you have to stay focused and not let them get you down.
Thank you for playing, Lexi!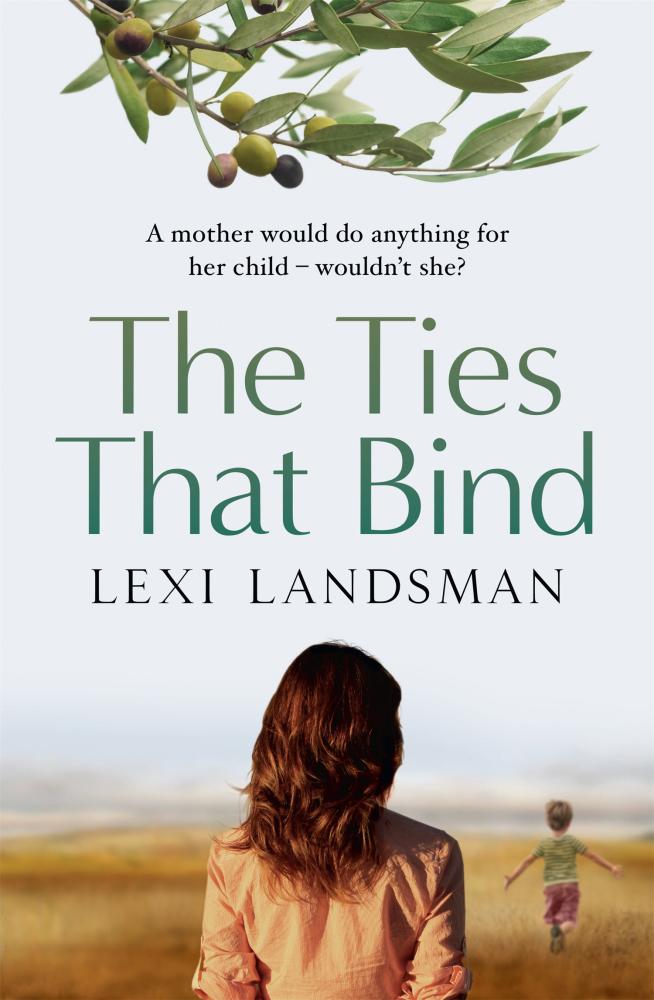 The Ties That Bind
The Ties That Bind is an emotionally riveting debut novel about the power of a mother's love and the bonds among family that, though severed, can never be fully broken.
On opposite sides of the world, two lives are changed forever. One by the smallest bruise. The other by a devastating bushfire. And both by a shocking secret . . .
Miami art curator Courtney Hamilton and her husband David live the perfect life until their ten-year-old son Matthew is diagnosed with ...
About the Contributor
Anastasia Hadjidemetri is the former editor of The Booktopian and star of Booktopia's weekly YouTube show, Booked with Anastasia. A big reader and lover of books, Anastasia relishes the opportunity to bring you all the latest news from the world of books.