Congratulations to Charlotte Wood who was last night awarded the $50,000 Stella Prize for The Natural Way of Things!

The Stella Prize, now in its fourth year, is named after Stella Miles Franklin, author of My Brilliant Career, and celebrates Australian women's contribution to literature.
The five other shortlisted authors, who each received $2,000, included: Peggy Frew for Hope Farm, Elizabeth Harrower for A Few Days in the Country: And Other Stories, Fiona Wright  for Small Acts of Disappearance, Mireille Juchau for The World Without Us and Tegan Bennet Daylight for Six Bedrooms.
Where all other prize winners have donated their winnings or shared it with their fellow shortlisted authors, Wood tearfully announced last night that she would be keeping the full amount, to underscore that writing literature can be a viable career option in Australia. "Given the plummeting of writers' incomes – the average income from literary fiction royalties is $4,100 per year, and most literary novelists I know earn substantially less than that from extremely accomplished work – [the money] is not just symbolic, and not just a gesture, but serious, practical and powerful," says Wood.
Wood should be mighty pleased with herself and her accomplishments this year. Not only was The Natural Way of Things recently shortlisted for the Miles Franklin award as well the 2016 Victorian Premier's Literary Award, it was also optioned for film by producers Katia Nizic and Emma Dockery. The Stella Prize is simply icing on the cake!
Wood is now looking forward to writing her next novel, a story about ageing, as opposed to The Natural Way of Things which draws attention to misogyny and corporate control. As she says, "Next week I will be back to the blank page … I hope I can take this glorious celebratory feeling into the new novel with me."
---
Charlotte Wood chats to Booktopia about The Natural Way of Things
---
Review by John Purcell
Charlotte Wood's latest novel, The Natural Way of Things, seethes with an anger the source of which doesn't seem to be the text itself. Speaking with her, she does admit on reading an early draft to being surprised at discovering this underlying anger in her novel.
Charlotte's last novel, Animal People, sought out the smoothed over hypocrisy of modern life. The sound of muffled laughter accompanied each page.
The Natural Way of Things is different. Different to her other work in many ways. There is Charlotte's crisp realism, her economy of words, her precision, but she has used these tools to conjure up an alternative present, one which sits frighteningly close to reality. A plausible dystopian vision.
The books opens with two women waking in some sort of prison, they have been drugged and are groggy. Neither woman can conceive of how they might have come to be in prison. Neither woman can make sense of the way they are being treated.
A few pages in and we find that these women are not alone. There are other women, and the one thing all seem to share is that they have been involved in some sexual scandal, or were the victims of sexual abuse, or were young women having fun. Too much fun, their incarceration seemed to declare.
Born of the incessant reporting of sexual crimes against women where the victim is made out to be the perpetrator, The Natural Way of Things takes this world only one or two steps forward. Shaming women in the media might not be enough for the next government. Australia has been guilty of locking up women for less in the past, and a future government might find it expedient to punish women for being victims of sexual crimes. This makes Charlotte angry, it seems. So she wrote The Natural Way of Things from this reservoir of anger without quite realising it. And what she has written will be one of the most talked about novels of the year. Because unlike a lot of us when we're angry, Charlotte kept her cool.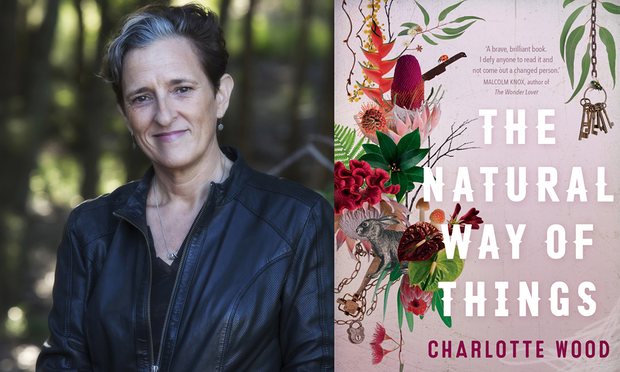 The Natural Way of Things
Winner of the 2016 Stella Prize
Two women awaken from a drugged sleep to find themselves imprisoned in a broken-down property in the middle of a desert. Strangers to each other, they have no idea where they are or how they came to be there with eight other girls, forced to wear strange uniforms, their heads shaved, guarded by two inept yet vicious armed jailers and a 'nurse'.
The girls all have something in common, but what is it? What crime has brought them here from the city? Who is the mysterious security company responsible for this desolate place with its brutal rules, its total isolation from the contemporary world? ...
About the Contributor
Anastasia Hadjidemetri is the former editor of The Booktopian and star of Booktopia's weekly YouTube show, Booked with Anastasia. A big reader and lover of books, Anastasia relishes the opportunity to bring you all the latest news from the world of books.