J.K.Rowling has confirmed that Fantastic Beasts And Where To Find Them will be a trilogy. Yes, that's three more wizardly movies to look forward to!
Fantastic Beasts And Where To Find Them is an all-new wizardly adventure created by J.K. Rowling. Academy Award winner Eddie Redmayne (The Theory of Everything) plays the central role of wizarding world magizoologist Newt Scamander, who searches for the world's most magical creatures and stores them in his suitcase.
It's 1926. Newt has just arrived in New York City and accidentally loses some of these rare and endangered creatures in his care. No-Mais (American Muggles) see these creatures, which is very bad. Of course chaos ensues and poor Newt ends up at loggerheads with the Magical Congress of the United States of America (MACUSA).
The sneak peek…?
MTV has taken to Twitter to announce that they'll be streaming an exclusive sneak peek of Fantastic Beasts at the 2016 MTV Movie Awards this Sunday, April 10!
Warner Bros. Pictures has slated Fantastic Beasts and Where to Find Them for worldwide release on November 18, 2016.
We may never recover. An exclusive sneak peek of @FantasticBeasts will be revealed at the #MovieAwards this Sunday!https://t.co/bAPkrBYScZ

— MTV (@MTV) April 5, 2016
And what's this about a chair for sale?
The chair that J.K.Rowling sat on to write her first 2 Harry Potter books is going up for auction tomorrow at New York's Heritage Auctions. The auction house described the chair as "a standard 1930s era oak chair with a replacement burlap seat decorated with a red thistle."
J.K. Rowling got four of them while living in public housing in Edinburgh, and chose this one to write on because it was "the comfiest," she says in a signed letter that goes along with the chair.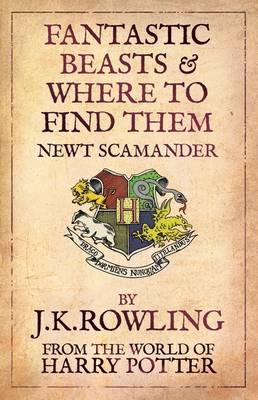 Fantastic Beasts and Where to Find Them
As featured in the first year set texts reading list in Harry Potter and the Philosopher's Stone, Fantastic Beasts and Where to Find Them is an extensive introduction to the magical beasts that exist in the magical, non-Muggle world.
Some of the animals featured in the A-Z you will have already met in the existing Harry Potter books: for example Hippogriff, Flobberworm, Kappa - others you certainly won't: read on to find out exactly what a Chizpurfle is, or why one should always beware of the sinister Lethifold ...
As Albus Dumbledore says in his introduction, this set text book by Newt Scamander has given the perfect grounding to many a Hogwarts student. It will be helpful to all Muggles out there too ...On reading the book you will also find that Harry, Ron and (in one instance) Hermione - couldn't resist grafittiing the book, and adding their own personal hand-written opinions.
About the Contributor
Anastasia Hadjidemetri is the former editor of The Booktopian and star of Booktopia's weekly YouTube show, Booked with Anastasia. A big reader and lover of books, Anastasia relishes the opportunity to bring you all the latest news from the world of books.