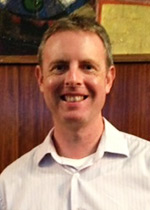 We play Five of Five with Aurealis Award-winning author Mitchell Hogan!
1) Name 5 books that inspire you…
Eric Carle's The Very Hungry Caterpillar 
Surprised? Don't be, it's a classic. There's not just a hungry caterpillar, there's a very hungry caterpillar and a twist at the end. Good stuff. It always reminds me of a joke which goes something like this — Author: I have a book about a hungry caterpillar, Publisher: Pass, Author: Wait…it's a very hungry caterpillar, Publisher: Go on…
Stephen King's The Stand
This book is essentially an epic fantasy adventure about good and evil set in a post apocalyptic America, and it has it all: imagery, great characters and plot, excellent world-building.
Carl Sagan's Cosmos
What can I say that hasn't already been said? A gorgeous book, which makes the complexity of the universe comprehensible and palatable.
Ursula Le Guin's A Wizard of Earthsea
Each time I read this book it tells me something different. Compared to today's fantasy works it's a short read, but what makes it great is its subtext. Read it early, and read it often.
Scott Bakker's The Darkness That Comes Before
Exquisite world building, the best I've ever read. This is a dark, adult fantasy story, and Bakker masterfully combines many different POV's, literary techniques, plots, religion, sorcery, and philosophy into a great read. An educated, intelligent and talented writer.
2) What are your picks for the 5 "best fantasy books of all time"?
Robin Hobb's Assassin's Apprentice
A complex and action packed fantasy, with flesh and blood characters. Triumphs are bitter sweet and you'll experience real emotion when reading this book.
Glen Cook's The Black Company
A world where good and evil are not absolute, following characters who are dark and ugly and somehow likeable, who must navigate the best they can through shades of grey. It's a little rough around the edges, and some would say it's primitive, but it's unique.
C.J. Cherryh's Chronicles of Morgaine
Stargate meets epic fantasy! A fantastic female lead character who has her own faults, weaknesses and needs. With all of the action and issues the two characters have to face, you don't realise until deep into reading it what the real story is: the relationship between Morgaine and Vanye.
R. Scott Bakker's The Darkness That Comes Before
Everything I said above plus more.
David Gemmel's Legend
Fantastic action scenes and an epic story about what it means to be a hero.
3) What are your picks for the "5 best sci-fi books of all time"?
Frank Herbert's Dune
Complex and vast world building, and people fighting over money, planets and drugs.
Issac Asimov's Foundation
Epic scope. The fall of the Roman Empire in space. A classic.
Dan Simmons' Hyperion
Superbly written and crafted. Different tales from different characters, all with a part to play.
William Gibson's Neuromancer
It can be confusing, but with each re-read you understand more. This book coined the term "cyberspace". A challenging but electrifying read.
Douglas Adams' The Hitchhiker's Guide to the Galaxy
Science-fiction-comedy phenomenon. Some find it "too silly", but they probably put their babel fish in the wrong hole.
4) What are your 5 favourite movies?
Blade Runner
Dark, gritty, superb style and atmosphere.
Seven Samurai
The first of its kind, assemble a team to carry out a mission. Rain drenched action and violence, and yet the movie isn't about violence, it's about duty and societal roles.
The Princess Bride
Enchanting fantasy. Yes, it has a few flaws, but it has everything: action, romance, comedy. Heart warming and sardonic.
Sunshine
A sci-fi movie without aliens? What the?
Complex characters, amazing story, do yourself a favour and watch it.
E.T. The Extra-Terrestrial
A great sci-fi adventure capturing the time in childhood when the world is filled with many mysterious possibilities. And E.T. was a jedi, so now you know.
5) What are 5 things about the art of writing that you didn't know when you started?
– There is the art of writing, and the business of writing. You need to be good at both. It's your intellectual property and you need to realise it has intrinsic value.
– Waiting for the "muse" to strike before you write is a good way to not get much writing done.
– There are many ways to learn something, and the best way is for someone more experienced to teach you. Find knowledgeable critiquers or professional editors and take their feedback on board. Strive to constantly improve your writing.
– You don't need to be an expert, whether it is writing or the business of writing, you just need to have an appetite for learning and to work hard.
– Someone once said: Have the courage to write badly. I think that's great advice.
Grab your copy of Mitchell Hogan's A Crucible of Souls here
A Crucible of Souls
by Mitchell Hogan
The Aurealis Award-winning e-book bestseller now in print.
An imaginative new talent makes his debut with the acclaimed first installment in the epic Sorcery Ascendant Sequence, a mesmerizing tale of high fantasy that combines magic, malevolence, and mystery.
When young Caldan's parents are brutally slain, the boy is raised by monks who initiate him into the arcane mysteries of sorcery.
Growing up plagued by questions about his past, Caldan vows to discover who his parents were, and why they were violently killed. The search will take him beyond the walls of the monastery, into the unfamiliar and dangerous chaos of city life. With nothing to his name but a pair of mysterious heirlooms and a handful of coins, he must prove his talent to become apprenticed to a guild of sorcerers.
But the world outside the monastery is a darker place than he ever imagined, and his treasured sorcery has disturbing depths he does not fully understand. As a shadowed evil manipulates the unwary and forbidden powers are unleashed, Caldan is plunged into an age-old conflict that will bring the world to the edge of destruction.
Soon, he must choose a side, and face the true cost of uncovering his past.
Grab your copy of Mitchell Hogan's A Crucible of Souls here
About the Contributor
Andrew Cattanach is a regular contributor to The Booktopia Blog. He has been shortlisted for The Age Short Story Prize and was named a finalist for the 2015 Young Bookseller of the Year Award. He enjoys reading, writing and sleeping, though finds it difficult to do them all at once.
Follow Andrew: Twitter