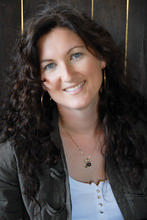 After a crazy few weeks spending my days on a big Case quadtrac (instead of wheels – picture a triangle tracs) tractor for seeding, it was nice to be home and to start the book that has been sitting on my bedside table for ages — and, I mean ages. I'm talking about Graeme Simsion's The Rosie Project. It was actually last year, while in Perth promoting my book The Sunnyvale Girls that I found out Graeme and I were signing just hours apart and the store front widow was decorated with only our books. Yes, I was a little excited to be rubbing shoulders with Graeme, and not one to miss an opportunity, I asked if I could leave a copy of The Rosie Project for him to sign. On my return the next day I was greeted with a lovely surprise. Not only had Graeme signed my copy of his book but he also left a signed copy of The Rosie Effect. It made my day! And now, finally, I have just finished it and the hype was right, it was a very enjoyable book. I must say I loved being inside Don's head, it really gave a new perspective on life and trying to understand what life is like for him. It was funny and so heart-warming. Definitely a great book club book.
Another book I rate highly is one that came recommended from my writing mate, Margareta Osborn – Danielle Hawkins' Dinner at Rose's, with a wonderful cover quote from Liane Moriarty. Two great recommendations. It is a lovely story about Jo, who goes back to her small hometown after her best friend and boyfriend are caught out; and she visits her honorary aunty Rose and her nephew Matthew. You need to read this book just for Rose alone. You'll never meet such a funny character, a bit eccentric but she has some great pets. It was a great love story, lots of laugh-out-loud moments and maybe a tear or two. This is one book that will leave you with a smile.
Speaking of Margareta Osborn, I just finished reading Rose River. I was enjoying it so much and tried fitting in a few chapters each night before sleep took over after a long day of work. Toward the end I even took it out on the tractor to find out how it ends! I had a GPS system after all and didn't need to steer. But I didn't factor in the bumps and found myself a little 'tractor sick' from having my head down. But I didn't stop, I still wanted to know! Rose River is a light, heartfelt read that was highly entertaining in true Margareta style. She has lively characters, charming small communities and a sexy farmer to boot. I love a good romance story, and this one was perfect with Stirling, a gorgeous motorbike-riding farmer and city girl, Jamie who is more suited to the country than I think even she realised. Set in the East Gippsland mountains, what more could you want.
Stay tuned for a few more book recommendations/reviews.
——————————————————
Fiona Palmer lives in the tiny rural town of Pingaring in Western Australia, three and a half hours south-east of Perth. She discovered Danielle Steel at the age of eleven, and has now written her own brand of rural romance. She has attended romance writers' groups and received an Australian Society of Authors mentorship for her first novel, The Family Farm. She has extensive farming experience, does the local mail run, and was a speedway-racing driver for seven years. She spends her days writing, helping out in the community and looking after her two children.
Pre-order your copy of The Saddler Boys here
The Saddler Boys
by Fiona Palmer
Schoolteacher Natalie has always been a city girl. She has a handsome boyfriend and a family who give her only the best. But she craves her own space, and her own classroom, before settling down into the life she is expected to lead.
When Nat takes up a posting at a tiny school in remote Western Australia, it proves quite the culture shock, but she is soon welcomed by the swarm of inquisitive locals, particularly young student Billy and his intriguing single father, Drew.
As Nat's school comes under threat of closure, and Billy's estranged mother turns up out of the blue, Nat finds herself fighting for the township and battling with her heart. Torn between her life in Perth and the new community that needs her, Nat must risk losing it all to find out what she's really made of – and where she truly belongs.
PRAISE FOR FIONA PALMER
'Fiona Palmer just keeps getting better.' Rachael Johns
'Palmer's passion for the land bleeds into the story, and her scenes are vivid and genuine, just as her characters are.' Book'd Out
'Fiona Palmer has well and truly earned her place as a leading writer of one of Australia's much-loved genres.' Countryman
Pre-order your copy of The Saddler Boys here
About the Contributor