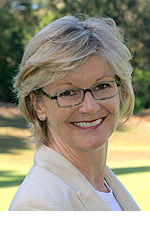 There wasn't a time when I didn't hanker after books. I grew up seeing the deep pleasure my mother got from reading and wanted it for myself. Pocket money funded my little girl obsession with pony stories as I fell utterly under the spell of the Pullein-Thompson sisters and Pat Smythe. The English horsey world they wrote about was so far removed from my Australian farm life but I was living it in my head every time I tried to make my grumpy pony jump hay bales like the heroines did in books with stirring titles like For Want Of A Saddle. I bombarded the children's page of the Adelaide Advertiser with my little stories and poems. Submissions deemed worthy received certificates, and a sufficient stash of certificates qualified for a book. A sort-of early Fly Buys for kids. The first book I chose was The Three Musketeers. I still have it.
Books ignited my childhood imagination, bringing the world to my bedroom, laying the foundations for a lifetime's curiosity about faraway places and awakening a passion for the written word. I can't be the only one to want for today's children the best things of my own childhood so, when babies arrive, my present is a book. Of course, a very special boy born in London and named George Banjo by his homesick Australian mother, received the collected verse of his namesake along with an adorable children's edition of Mulga Bill's Bicycle, a personal favourite since forever. It's now four years on, and an email arrived last month with a heart-melting photo of a kindergarten class dressed as their favourite characters for Book Week. There, in between Bob The Builder and Buzz Lightyear, was George in loud striped socks, trousers rolled up and a flamboyant spotted cravat – a dead ringer, as A.B. would have said, for the Mulga Bill of the delicious Niland illustrations in what has become George's favourite bed-time book. It was an emotional moment. I think he has caught the craze.
---
Dee Nolan's A Food Lover's Pilgrimage To France is a featured title in Penguin's Booktoberfest Showcase, click here for more details
A Food Lover's Pilgrimage To France
by Dee Nolan
Dee Nolan laces up her walking boots for more adventures of the cultural and culinary kind, this time retracing the footsteps of the early French pilgrims, who travelled to Santiago de Compostela in vast numbers. In this book, as in her previous book A Food Lover's Pilgrimage Along the Camino to Santiago de Compostela, she seamlessly weaves together her two great passions: the history and religious relics of the medieval pilgrimage and her keen appreciation of food and wine.
As Dee winds her way through the vineyards of Burgundy to the gastronomic capital of Lyon, across the vast Aubrac plateau of the Massif Central and through the fertile valleys of Quercy and Gascony, she discovers that 'what is old is new again' – not only are the ancient pilgrim paths enjoying a resurgence in popularity, but early farming methods are making a comeback and there's a renewed interest in regional produce and food traditions. Travelling at 'human pace' reminds her of the importance of connection – to our past and present, to the land we live on and the people we meet.
This captivating book unearths numerous treasures in the French countryside, from exquisite Romanesque churches to world-renowned wine and cheese caves, colourful local customs and food experiences of both the Michelin-starred and home kitchen variety.
Dee Nolan's A Food Lover's Pilgrimage To France is a featured title in Penguin's Booktoberfest Showcase, click here for more details
About the Contributor