Carole Wilkinson
author of Dragonkeeper series and more…
Six Sharp Questions
___________


1. Congratulations, you have a new book. What is it about and what does it mean to you?
Thanks. It is Shadow Sister, the 5th book in the Dragonkeeper series. It follows on from Blood Brothers and is the ongoing adventures of the dragon Kai and Tao, who is coming to terms with being a dragonkeeper. It is a sort of ghost story. There are insects.
2. Times pass. Things change. What are the best and worst moments that you have experienced in the past year or so?
The very best thing in the last year was learning I'm going to be a grandmother in October. Also we are building a holiday house, an earth-covered house, and seeing it progress has been exciting. Finishing another book is another big thing, getting to that stage where you don't cringe when you read it aloud and you're happy to send it off into the world. Actually the last 12 months have been huge!
3. Do you have a favourite quote or passage you would be happy to share with us? It doesn't need to be deep but it would be great if it meant something to you.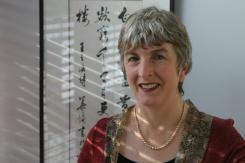 The one that springs to mind is "The journey of a thousand li begins with a single step" written by Chinese philosopher Laozi around 6th century BC. It is true of every worthwhile endeavour. There are no shortcuts, you just take it one step at a time.
4. Writers have often been described as being difficult to live with. Do you conform to the stereotype or defy it? Please tell us a little about the day to day of your writing life.
There are times, when I get bogged down in the middle of a book, when I can be pretty cranky. Day to day, it's not very exciting, not to an observer anyway. I get up early. I sit in front of the computer at 7.30 and I try to write 1000 words each day. Once there's a completed draft, there is a great deal of re-reading and editing, which I like much more than writing the words for the first time. My idea of a break is to go to the State Library of Victoria or Melbourne Uni Library in the afternoon to look up information. I'm writing a non-fiction book at the moment, so there's a lot of that happening.
5. Some writers claim not to be influenced by the needs of the marketplace, while others seem obsessed by it. Would you please describe how the marketplace affects your writing (come on, tell the truth!).
I think, "I wonder if anyone will want to read this?", but I don't start by wondering what will be successful or hit the spot in the market at this point in time. I write what I am interested in, what will keep me engaged and keen to get in front of the computer every morning. I hope that my enthusiasm will filter into the book and others will be enthusiastic about the story too.
6. Unlikely Scenario: You've been charged with civilising twenty ill-educated adolescents but you may take only five books with you. What do you take and why?
You do like to pose hard questions! I don't think there is one version of being "civilised". I would just get them to be keen readers and then they can take their own path to whatever sort of education suits them.
This is a topic worth many hours, if not days, of contemplation, but…I have a book to write. So just off the top of my head:
Carole, thank you for playing.
Grab a copy of Shadow Sister here
About the Contributor