The Winner of the Maeve Binchy Book Pack is:
L.Raftery, Vaucluse, NSW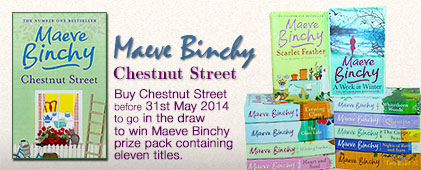 CHESTNUT STREET
by Maeve Binchy

A delightful collection of linked stories from No.1 bestselling author Maeve Binchy – simply the best
Just round the corner from St Jarlath's Crescent (featured in MINDING FANKIE) is Chestnut Street. Here, the lives of the residents are revealed in Maeve Binchy's wonderful collection of stories
Bucket Maquire, the window cleaner, who must do more than he bargained for to protect his son.
Nessa Byrne, who's aunt comes to visit from America for six weeks every summer and turns the house – and Nessa's world – upside down.
Lilian, the generous girl with a big heart, and the fiance not everyone approves of.
Grab a copy of Chestnut Street here
---

The Winners of the Stephen King Book Packs (Containing: The Shining. Misery, Carrie, Firestarter, Dead Zone, Bag of Bones, Needful Things, From a Buick 8, Cell and 11.22.63) are:

S. Miszkowycz, Springwood, QLD
H.Ladd, Adelaide, SA
G.Gutjahr, Bargo, NSW
E. Bruce, Blacktown, NSW
A.Teasdale, Kerang, VIC
A retired cop and a couple of unlikely allies race against time to stop a psycho-loner intent on blowing up thousands… Stephen King is on a roll, this time with the heart-pounding suspense that he does best.
A cat-and-mouse suspense thriller featuring a retired homicide detective who's haunted by the few cases he left open, and by one in particular – the pre-dawn slaughter of eight people among hundreds gathered in line for the opening of a jobs fair when the economy was guttering out. Without warning, a lone driver ploughed through the crowd in a stolen Mercedes. The plot is kicked into gear when Bill Hodges receives a letter in the mail, from a man claiming to be the perpetrator. He taunts Hodges with the notion that he will strike again. Hodges wakes up from his depressed and vacant retirement, hell-bent on preventing that from happening.
Brady Hartfield lives with his alcoholic mother in the house where he was born. And he's preparing to kill again. Only Hodges, with a couple of misfit friends, can apprehend the killer in this high-stakes race against time. Because Brady's next mission, if it succeeds, will kill or maim hundreds, even thousands…
Grab a copy of Mr Mercedes here
---
Congratulations to the winners!
For your chance to enter a Booktopia Competition click here
About the Contributor