The Winners of High Tea with Rachael Johns at The Tea Cosy, The Rocks NSW:
C.Walters, Berkeley Vale, NSW
K.Donkin, Baulkham Hills,NSW
S.Dawson, Corrimal, NSW
V.Collins, North Richmond, NSW
C. Stevens, Flinders, NSW
Outback Blaze by Rachael Jones
*For a limited time only, order Outback Blaze and you will receive a signed copy. Hurry, stocks won't last!
Ruby wasn't looking for love, Drew wasn't looking to stay… until they found each other. Can their fling survive the darkness of Ruby's past and Drew's desire to move on?
Ruby Jones was always an optimist, but the trauma of her past had made her wary. So when she flees to the small rural community of Bunyip Bay to start afresh, she has her sights firmly set on establishing her horse-riding business and rebuilding her life. The last thing Ruby wants is a romance. In fact, after all she has been through, she can't imagine she will ever believe in love again.
Police officer Drew Noble has no intention of staying in Bunyip Bay — he is just an outsider seeking temporary refuge. But as the charm of the town sways him, Drew finds himself increasingly drawn to

the community and its inhabitants, as well as another newcomer, the lovely Ruby Jones.
When Drew investigates a suspicious fire at Ruby's parents' business, he finds himself feeling strangely protective of the girl with the flowers in her hair. As the details of Ruby's past emerge and she comes once more under threat, Drew realises he will do all in his power to save her.
Soon these outsiders discover they have both lost their hearts — not only to the town but to each other.
Grab a copy of Outback Blaze here
The Runners-up received a Book Pack from Harlequin featuring 10 books!:
N.West , Redland Bay, QLD
J.Briggs, Laverton, WA
S.Southgate , Murwillumbah, NSW
J.Darlington, Lameroo,SA
K.John , Wee Waa, NSW
---
The Winner of Belinda Alexandra's signed Book Pack is:
J.Pfeiffer, Carrington, NSW
Sapphire Skies by Belinda Alexandra
A love bigger than a war. A beautiful woman lost. A mystery unsolved … until now.
2000: The wreckage of a downed WWII fighter plane is discovered in the forests near Russia's Ukrainian border.
The aircraft belonged to Natalya Azarova, ace pilot and pin-up girl for Soviet propaganda, but the question of her fate remains unanswered. Was she a German spy who faked her own death,
as the Kremlin claims? Her lover, Valentin Orlov, now a highly-decorated general, refuses to believe it. Lily, a young Australian woman, has moved to Moscow to escape from tragedy.
She becomes fascinated by the story of Natalya, and when she meets an elderly woman who claims to know the truth behind the rumours, Lily is drawn deeper into the mystery. From the
pomp and purges of Stalin's Russia through the horrors of war and beyond – secrets and lies, enduring love and terrible betrayal, sacrifice and redemption all combine in this sweeping saga
from Belinda Alexandra.
Grab a copy of Sapphire Skies here
---
The Winner of Book pack containing both the Clementine-Rose and Alice-Miranda series signed by Jacqueline Harvey is:

L.Do, Mansfield Park, SA
Jacqueline Harvey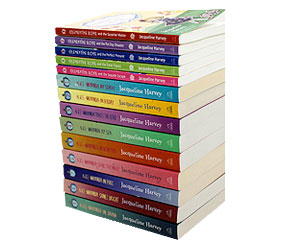 Jacqueline Harvey's bestselling Alice-Miranda series began as an idea for a picture book but it soon became apparent that this perpetually positive seven-and-a-quarter-year-old had a lot more to say.
The series has been sold to the United States, United Kingdom, Indonesia and Turkey and has been shortlisted for children's book awards in Australia. Her first and only picture book, The Sound of the Sea was an Honour Book in the 2006 Children's Book Council Awards.
Jacqueline has spent most of her working life teaching in girls' boarding schools and has been a Deputy Head and Director of Development. She is passionate about improving educational outcomes for Indigenous students.
Jacqueline lives in Sydney with her husband Ian and is currently working on Alice-Miranda's next adventure as well as an exciting spin-off series for younger readers about a sweet little girl called Clementine Rose.
 Click here to visit Jacqueline Harvey's author page
About the Contributor