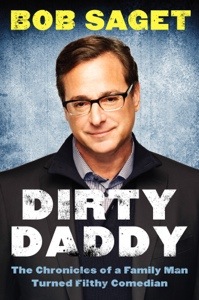 Ahead of his Australian tour in May 2014 comes a heartfelt, hilarious, and often filthy memoir from raunchy comedian and beloved TV star, Bob Saget.
Although best-known for his family-friendly role on the hit TV show Full House, Bob Saget is equally adored by fans for his lewd stand-up routines and his outrageously profane, scene-stealing cameos in The Aristocrats and Entourage.
Now, in his publishing debut, he continues to embrace his dark side and gives readers the book they have long been waiting for – hilarious, irreverent and, more-often-than-not, filthy.
From his never-before-heard stories of what really went on behind the scenes of one of the most successful family TV shows of all time, to his wild tales of legendary friends and colleagues, to his addressing his reputation for depravity, Saget opens up about his life in entertainment and beyond, all with the blend of raucously vulgar humour and heart that has won him millions of fans.
About the Author
Bob Saget is a stand-up comedian, actor, director, writer, producer, and television host who has been performing for more than thirty years. He lives in Los Angeles, California.
Grab a copy of Bob Saget's Dirty Daddy here
About the Contributor
Andrew Cattanach is a regular contributor to The Booktopia Blog. He has been shortlisted for The Age Short Story Prize and was named a finalist for the 2015 Young Bookseller of the Year Award. He enjoys reading, writing and sleeping, though finds it difficult to do them all at once.
Follow Andrew: Twitter