The Booktopia Book Guru asks
Silvia Kwon
author of The Return
Ten Terrifying Questions
1. To begin with why don't you tell us a little bit about yourself – where were you born? Raised? Schooled?

I was born in Seoul, South Korea and arrived in Perth, Western Australia aged nine. I spent the first few years in country towns and found the transition from a bustling city to rural Australia fairly traumatic. It was compounded by the fact that I couldn't speak any English and being a fairly outgoing, social girl, it made me determined to learn the language as quickly as possible.
I went to a girls' Catholic high school, St Joachim's High School in Perth and spent a few years trying to figure out what to do with my life. I ended up falling in love with art and decided to pursue an art history degree at the University of Western Australia. Then in my late twenties I thought it was time I did something about my love of books and words and moved to Melbourne to try and work in publishing, which I did for a number of years before having a child and starting my own writing.
2. What did you want to be when you were twelve, eighteen and thirty? And why?
Twelve – no idea
Eighteen – Filmmaker: I loved the way films – images with music – could move you. I try to this with words. But I found that I wasn't any good with a camera.
Thirty – Editor: I loved words so the idea of working with words as a profession was very attractive to me. I am doing that now, as a writer.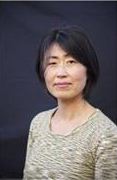 3. What strongly held belief did you have at eighteen that you do not have now?
I was very much a romantic, so I believed in the idea of a soulmate, but now I'm much more pragmatic and believe that love and relationships happen through coincidence, luck and chance as much as compatibility.
4. What were three works of art – book or painting or piece of music, etc – you can now say, had a great effect on you and influenced your own development as a writer?
1) The art of Mark Rothko
2) The films of Terrence Malick
3) Books by James Joyce
5. Considering the innumerable artistic avenues open to you, why did you choose to write a novel?
The simplicity and freedom associated with the act of putting ideas down on paper has always been attractive to me. There's no complicated equipment like cameras or messy paintbrushes etc.
I also love words. I could sit and read the dictionary quite happily for an entire day.
6. Please tell us about your latest novel…
It's about a family coming to terms with the son's decision to bring home a Japanese wife during 1960s Australia. The father is deeply traumatised by his war experiences and still hates the former enemy.
The novel is told from the mother's point of view and follows her struggle, caught between her husband and son, to hold the fractured family together.
Grab a copy of The Return here
7. What do you hope people take away with them after reading your work?
That they took a journey with the main protagonist through the emotional landscape of the novel.
8. Whom do you most admire in the realm of writing and why?
I really admire Toni Morrison for the power of her language.
9. Many artists set themselves very ambitious goals. What are yours?
To try and write a better book than the last.
10. What advice do you give aspiring writers?
It's actually something I heard Neil Gaiman say: There will always be better writers and smarter people than you. Just try to write something which only you could have written.
Silvia, thank you for playing.
Grab a copy of The Return here
About the Contributor
Andrew Cattanach is a regular contributor to The Booktopia Blog. He has been shortlisted for The Age Short Story Prize and was named a finalist for the 2015 Young Bookseller of the Year Award. He enjoys reading, writing and sleeping, though finds it difficult to do them all at once.
Follow Andrew: Twitter