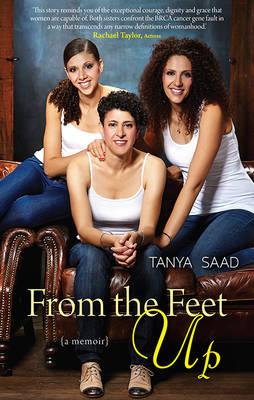 When we are teenagers we dream of being many things. I dreamt of writing today's classic women's novel just like Jo March in Little Women by Louise May Alcott.
Life was an adventure for my two sisters and I growing up in a country town with a Lebanese heritage. And like the March sisters, despite growing up in the same household we experienced very different childhoods and have gone on to lead very different lives.
It just so happened that the profound moments in my life were about discovering one thing – who we are and what it means to be a woman – be it as a Lebanese woman, an athlete, a proud gay woman and one of two sisters in my family that carried the BRCA 1 breast and ovarian cancer gene fault.
Thanks to this common thread of family life experiences, at the age of thirty five I found the story I wanted to tell and share.
My Memoir, From the Feet Up, gives some novel and insightful perspectives on issues confronting today's women from tackling bullying, exploring our femininity, to how we socially interact with one another and plan or not plan our lives.  It offers some revelations along the way but I also hope its gets women talking to one another, questioning what you would do if you were in my shoes. I love books that do that.
I especially wanted to share my BRCA journey and the life changing decisions I had to make amid my wonderful and entertaining family dynamic, for other women and families out there facing the same or similar challenges. Often I have found a line or two in a book to hold on to and live by that has helped me find my feet and the natural order of my life amidst the chaos and confusion of society and its social constructs. I hope my Memoir will do the same.
Grab a copy of From the Feet Up here
Grab a copy of From the Feet Up here
About the Contributor