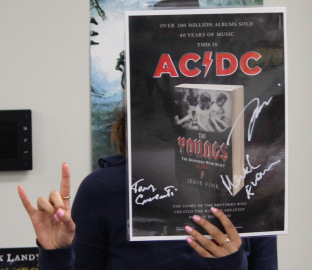 The Youngs: The Brothers Who Built AC/DC Prize Winner:
L. Heinrich, Chatswood, NSW
The prize:
A laminated poster of THE YOUNGS signed by
– Author Jesse Fink
– AC/DC bass player Mark Evans (Let There Be Rock, TNT, Dirty Deeds Done Dirt Cheap)
– AC/DC drummer Tony Currenti (High Voltage, '74 Jailbreak, Bonfire, Backtracks)
The Youngs
by Jesse Fink
With sales of over 200 million albums, AC/DC is not just the biggest rock band in the world. It's a family business built by three brothers: George, Malcolm and Angus Young. And, as with any business, some people prospered while others got hurt along the way.
The Youngs: The Brothers Who Built AC/DC is unlike any AC/DC book you've read before. Less a biography, more a critical appreciation, it tells the story of the trio through 11 classic songs and reveals some of the personal and creative secrets that went into their making. Important figures from AC/DC's long way to the top open up for the very first time, while unsung heroes behind the band's success are given the credit they are due.
Accepted accounts of events are challenged while sensational new details emerge to cast a whole new light on the band's history – especially their early years with Atlantic Records in the United States. Former AC/DC members and musicians from bands such as Guns N' Roses, Dropkick Murphys, Airbourne and Rose Tattoo also give their perspectives on the Youngs' brand of magic.
Their music has never pulled its punches. Neither does The Youngs. After 40 years, AC/DC might just have got the serious book it deserves.
Grab a copy of The Youngs here
---
Congratulations to the winner!
For your chance to enter a Booktopia Competition click here
About the Contributor