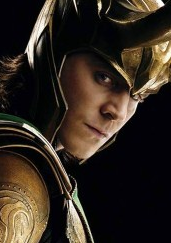 Here's what I knew about Norse mythology when I first picked up The Gospel of Loki by Joanne M. Harris.
a)     Norse gods live in a place called Asgard.
b)    Loki is the coolest god . Sure he's evil, but he's also played by Tom Hiddleston (see left) and therefore his evilness is cancelled out by his perfect male beauty.
c)     Thor is the god of Thunder. He has very large muscles and a magic hammer.
So yeah. As you can see I had some major gaps in my knowledge. Gaps that have now been filled with Joanne M. Harris' spellbinding recounting of Norse myth and legend, through the eyes of the most instantly engaging narrator I have encountered in a long while.
The Gospel of Loki is a surprising book. For starters, the only other book by Joanne M. Harris that I've ever read is Chocolat and The Gospel of Loki is a very different kind of read. I loved Chocolat. It was enchanting, heart-warming and utterly lovely.  The Gospel of Loki is none of these things. It's dark, quirky, occasionally grim, often hilarious and gloriously bold.
Given the subject matter, I was expecting The Gospel of Loki to be more of a traditional fantasy epic, heavy on world building and probably involving some kind of
heroic journey quest. Instead, I found myself lost in a series of episodic adventures, wicked little parables on how best to lie, cheat, trick and bluff your way to success. In Loki's case, of course, success means getting revenge against his fellow gods and causing the downfall of Asgard.
By far and away the most wonderful thing about this book is the voice Joanne M. Harris has given her delightfully immoral anti-hero. I'm not always a great fan of first person narrative but I have to make an exception for  The Gospel of Loki because this is how first person narration should be done! Loki's character shines through in every line, dripping sarcasm, twinkling with mischief and humming with that special kind of unrepentant arrogance so often found in archetypal "trickster" characters like Robin Goodfellow and Peter Pan.
This is a character who, when asked if he can achieve the impossible, routinely replies, "Of course. I'm Loki." He is gloriously conceited, packed full of swagger and playful cheek. He's a lovable villain, a mischievous bad-boy, a fiendish puppet master who knows just how to manipulate people. It doesn't take much. Just whisper into someone's ear, a well-timed and seemingly offhand comment and voila! Disaster ensues!
And yet, the true genius of Harris' Loki is that he is so dammed lovable. Despite his inherent wickedness, you just can't help rooting for him. He's not malicious, after all. He's simply a creature of chaos. It's in his nature to cause trouble.
Now come on. Tell me he doesn't sound like the coolest god ever?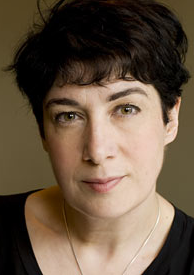 Harris gives us a Loki who is constantly mistreated by his fellow gods. Always an outsider, always rejected, always everybody's convenient scapegoat.  This of course makes him the ultimate underdog. No matter how evil his plots become, or what depths of wickedness he sinks to, the reader cannot help cheering him on because … well … he's Loki.
So thoroughly did I enjoy The Gospel of Loki that I was compelled to check whether Joanne M. Harris has written any other books in a similar vein. To my joy, I found out she has!  Runemarks and Runelight  – two Young Adult fantasies inspired by Norse mythology, both which of I will be reading as soon as possible.
And now excuse me while I go and pray to Odin, Allfather of the gods and ruler of Asgard, to give Loki his very own Marvel movie (with at least two sequels).
__________________
Sarah McDuling is a contributor to the Booktopia Blog and Editor of the Booktopia Young Adult Buzz.  Her hobbies include (but are not limited to) sword-fighting, ghost hunting and lion taming. She is also an enthusiaster fibber. You can read her other posts here or follow her on Tumblr at Young Adult @ Booktopia
Grab a copy of The Gospel of Loki here
With his notorious reputation for trickery and deception, and an ability to cause as many problems as he solves, Loki is a Norse god like no other. Demon-born, he is viewed with deepest suspicion by his fellow gods who will never accept him as one of their own and for this he vows to take his revenge.
But while Loki is planning the downfall of Asgard and the humiliation of his tormentors, greater powers are conspiring against the gods and a battle is brewing that will change the fate of the Worlds.
From his recruitment by Odin from the realm of Chaos, through his years as the go-to man of Asgard, to his fall from grace in the build-up to Ragnarok, this is the unofficial history of the world's ultimate trickster.
About the Contributor
Sarah is the Editor of The Booktopian Blog and Senior Content Producer at Booktopia, where she enjoys unleashing the full capacity of her bookish obsession. She enjoys sword-fighting, time-travel, rare jewel collecting and competitive yodeling. She also leads a very rich fantasy life. An avid reader and book reviewer, Sarah is filled with boundless enthusiasm for the written word! She also has a slight tendency to overuse exclamation points!!!!!
Follow Sarah: Twitter