Writing a follow up to The Slap was never going to be easy for Christos Tsiolkas. John Purcell casts an eye over his latest, Barracuda.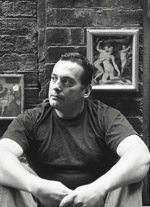 This is a difficult book to write about. It has a personality rather than a plot. It is built upon emotion rather than reason. It is all shouts and whispers and nothing in between.
As a boy Danny Kelly wants only one thing – to be the greatest swimmer of all time. And his dream isn't farfetched. His coach believes he can do it. His mother is behind him, waking early and driving him to the pool. And his peers think he can do it, though they resent him for his talent.
Every waking moment of Danny Kelly's life is lived in pursuit of that single goal – which makes him a bit of a shit.
Christos Tsiolkas doesn't deliver Danny's story in sequence. Because Danny's life isn't linear. There is one central event, one devastating moment in Danny's life and all other moments are either before or after it. He has no past, present, or future.  Everything races towards and circles back to that event. If we want to understand Danny we need to understand this.
Barracuda questions our obsession with winning and winners. It examines failure, shame and regret. It asks whether we can ever be truly forgiven for our sins. And it does so in naked fearless prose. This is not an uplifting book, but unlike Eyrie, there is love and there is hope. And it suggests we are only as isolated from others as we allow ourselves to be.
For more details about Barracuda click here
Barracuda
by Christos Tsiolkas
Tender and brutal and blazingly brilliant, the new novel from the acclaimed author of the international bestseller The Slap takes an unflinching look at modern Australia – at our hopes and dreams, our friendships, and our families – and asks what it means to be a good person and what it takes to become one.
He asked the water to lift him, to carry him, to avenge him. He made his muscles shape his fury, made every stroke declare his hate. And the water obeyed; the water would give him his revenge. No one could beat him, no one came close.
His whole life, Danny Kelly's only wanted one thing: to win Olympic gold. Everything he's ever done-every thought, every dream, every action-takes him closer to that moment of glory, of vindication, when the world will see him for what he is: the fastest, the strongest and the best. His life has been a preparation for that moment.
His parents struggle to send him to the most prestigious private school with the finest swimming program; Danny loathes it there and is bullied and shunned as an outsider, but his coach is the best and knows Danny is, too, better than all those rich boys, those pretenders. Danny's win-at-all-cost ferocity gradually wins favour with the coolest boys-he's Barracuda, he's the psycho, he's everything they want to be but don't have the guts to get there. He's going to show them all.
He would be first, everything would be alright when he came first, all would be put back in place. When he thought of being the best, only then did he feel calm.
Should we teach our children to win, or should we teach them to live? How do we make and remake our lives? Can we atone for our past? Can we overcome shame? And what does it mean to be a good person?
A searing and provocative novel by the acclaimed author of the international bestseller The Slap, Barracuda is an unflinching look at modern Australia, at our hopes and dreams, our friendships, and our families. It is about class and sport and politics and migration and education. It contains everything a person is: family and friendship and love and work, the identities we inhabit and discard, the means by which we fill the holes at our centre. Barracuda is brutal, tender and blazingly brilliant; everything we have come to expect from this fearless vivisector of our lives and world.
For more details about Barracuda click here
We also have signed copies of The Slap
About the Contributor
While still in his twenties, John Purcell opened a second-hand bookshop in Mosman, Sydney, in which he sat for ten years reading, ranting and writing. Since then he has written, under a pseudonym, a series of very successful novels, interviewed hundreds of writers about their work, appeared at writers' festivals, on TV (most bizarrely in comedian Luke McGregor's documentary Luke Warm Sex) and has been featured in prominent newspapers and magazines. ​Now, as the Director of Books at booktopia.com.au, Australia's largest online bookseller, he supports Australian writing in all its forms. He lives in Sydney with his wife, two children, three dogs, five cats, unnumbered gold fish and his overlarge book collection. His novel, The Girl on the Page, will be published by HarperCollins Australia in October, 2018.