From the outset I want to say I'm a HUGE J.K. Rowling fan, but I've never really been a fan of crime fiction, and as I started reading The Cuckoo's Calling, I wondered if Rowling would win me over. With the words over-flowing I asked myself whether I would be able to keep track or even remember the many characters who could possibly be attached to the apparent suicide of one model named, Lula Landry.
But as I kept reading I found myself more interested in the story and more eager to follow Detective Cormoran Strike, in his quest to find the killer, which at first even he is sceptical exists.
The abundance of adjectives and verbs helped me to better picture the characters and crime scenes that inhabit this modern-day London, or more specifically, the celebrity obsessed world that we live in and those that covet its riches.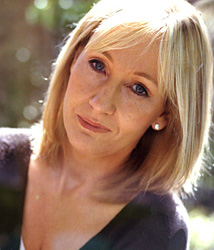 After each chapter I drew my own conclusions from the evidence presented to me through the detailed detective work of Cormoran Strike. I got that eerie feeling you get from certain characters and that pity you develop for others. These feelings helped me to group together my three final suspects.
Of my three suspects, one was the killer, so I was certainly proud of myself. But I guess that is what crime novels are all about: they present you with many suspects that you must break-down, but you are still left with a few.
Once again, J.K. Rowling has done it. Post Harry Potter, there's been a big hole in my life that I needed to fill. Rowling has not only filled it, but crime fiction now has a new fan.
Click here to buy The Cuckoo's Calling from Booktopia,
Australia's Local Bookstore
Want a signed copy of J.K. Rowlings' The Casual Vacancy?
Just buy a copy of J.K. Rowling's The Cuckoo's Calling and go in the draw!
Click here to buy The Cuckoo's Calling from Booktopia,
Australia's Local Bookstore
About the Contributor