It's been 29 years since Morrissey pleaded please, please, please, let me get what I want, but now fans everywhere finally have what they want. An autobiography from one of the modern era's finest song writers and most intriguing public figures.
And true to form, he only agrees to be published if he can be published straight into Penguin Classics.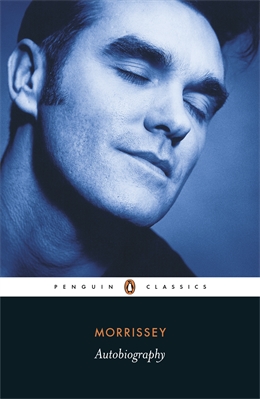 Autobiography covers Morrissey's life from his birth until the present day.
Steven Patrick Morrissey was born in Manchester on May 22nd 1959. Singer-songwriter and co-founder of the Smiths (1982-1987), Morrissey has been a solo artist for twenty-six years, during which time he has had three number 1 albums in England in three different decades.
Achieving eleven Top 10 albums (plus nine with the Smiths), his songs have been recorded by David Bowie, Nancy Sinatra, Marianne Faithfull, Chrissie Hynde, Thelma Houston, My Chemical Romance and Christy Moore, amongst others.
An animal protectionist, in 2006 Morrissey was voted the second greatest living British icon by viewers of the BBC, losing out to Sir David Attenborough. In 2007 Morrissey was voted the greatest northern male, past or present, in a nationwide newspaper poll. In 2012, Morrissey was awarded the Keys to the City of Tel-Aviv.
It has been said 'Most pop stars have to be dead before they reach the iconic status that Morrissey has reached in his lifetime.'

Click here to buy Autobiography from Booktopia,
Australia's Local Bookstore
About the Contributor
While still in his twenties, John Purcell opened a second-hand bookshop in Mosman, Sydney, in which he sat for ten years reading, ranting and writing. Since then he has written, under a pseudonym, a series of very successful novels, interviewed hundreds of writers about their work, appeared at writers' festivals, on TV (most bizarrely in comedian Luke McGregor's documentary Luke Warm Sex) and has been featured in prominent newspapers and magazines. ​Now, as the Director of Books at booktopia.com.au, Australia's largest online bookseller, he supports Australian writing in all its forms. He lives in Sydney with his wife, two children, three dogs, five cats, unnumbered gold fish and his overlarge book collection. His novel, The Girl on the Page, will be published by HarperCollins Australia in October, 2018.