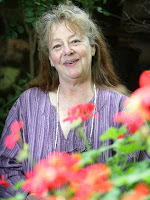 Why do I write?
Money.
Oh, all right. I write because I can't not write. I've been a story teller since I could speak and I get uncomfortable if I can't write. It's a form of benign possession. I wake up in the middle of the night with a story insisting on immediate attention and I write and write and write until I fall exhausted from the chair three weeks later and I have a book. I wrote my first novel when I was sixteen and have been writing what I would like to read ever since.
Fortunately my learned colleague the beautiful David is there to feed me and remind me to sleep occasionally, and the cats bite me when I have left something unattended on the stove for more than about an hour. Also my feline Muse, Belladonna, hits the Caps Lock if I have been writing for more than two hours. It gets her cat treats and it preserves my wrists.
Currently I am thinking about a childrens' book called The Princess of Cats, a fantasy novel, working on a biography from tapes, and a new Corinna. I am also currently researching folk songs and reminding myself firmly that I might still be working for the public service writing opinions on Section 9 (1) (h) (a) of the Land Tax Act and that I am very, very, very lucky.
Kerry Greenwood's Murder and Meldelssohn: A Phryne Fisher Mystery is a Booktoberfest title. Buy it now to go in the draw to win Booktopia's weekly giveaway – a $250 Booktopia voucher – AND order by 31st October 2013 to go in the draw to win the fantastic publisher prize.
Click here for prize details and to see the full Allen & Unwin Showcase
Murder and Meldelssohn: A Phryne Fisher Mystery
by Kerry Greenwood
The divine and fearless Miss Phryne Fisher returns in her 20th adventure in a vastly entertaining tale of murder, spies, mathematics and music.
To the accompaniment of heavenly choirs singing, the fearless Miss Phryne Fisher returns in her 20th adventure with musical score in hand.
An orchestral conductor has been found dead and Detective Inspector Jack Robinson needs the delightfully incisive and sophisticated Miss Fisher's assistance to enter a world in which he is at sea. Hugh Tregennis, not much liked by anyone, has been murdered in a most flamboyant mode by a killer with a point to prove. But how many killers is Phryne really stalking?
At the same time, the dark curls, disdainful air and the lavender eyes of mathematician and code-breaker Rupert Sheffield are taking Melbourne by storm. They've certainly taken the heart of Phryne's old friend from the trenches of WW1, John Wilson. Phryne recognises Sheffield as a man who attracts danger and is determined to protect John from harm.
Even with the faithful Dot, Mr and Mrs Butler, and all in her household ready to pull their weight, Phryne's task is complex. While Mendelssohn's Elijah, memories of the Great War, and the science of deduction ring in her head, Phryne's past must also play its part as MI6 become involved in the tangled web of murders.
A vastly entertaining tale of murder, spies, mathematics and music.
Click here to buy Murder and Meldelssohn from Booktopia,
Australia's Local Bookstore
About the Contributor
Andrew Cattanach is a regular contributor to The Booktopia Blog. He has been shortlisted for The Age Short Story Prize and was named a finalist for the 2015 Young Bookseller of the Year Award. He enjoys reading, writing and sleeping, though finds it difficult to do them all at once.
Follow Andrew: Twitter