The Booktopia Book Guru asks
Roger McDonald

author of The Following, The Ballad of Desmond Kale and many more

Ten Terrifying Questions
————————
1. To begin with why don't you tell us a little bit about yourself – where were you born? Raised? Schooled?
Born at Young, NSW, and raised in Bribbaree, Temora, and Bourke. Secondary school and university in Sydney.
Country towns inoculated me against the romanticism of village life, but I loved living outside of them in the country. Still do.
2. What did you want to be when you were 12, 18 and 30? And why?
I wanted to be an pilot but became a writer so never really came to earth.
3. What strongly held belief did you have at 18 that you do not have now?
That I was, or deserved to be, immortal.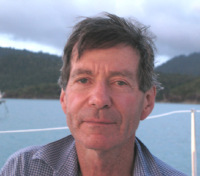 4. What were three works of art – book or painting or piece of music, etc – you can now say, had a great effect on you and influenced your own development as a writer?
Doctor Zhivago, by Boris Pasternak,  for the poetry of fiction.
The Tree of Man, by Patrick White, for ordinary Australian experience allowable as a high subject.
William Shakespeare for the protean potential of words.
5. Considering the innumerable artistic avenues open to you, why did you choose to write a novel?
It seemed like an impossibility, and still does, so that is why I keep doing it, because I never seem to quite reach where I want to be.
6. Please tell us about your latest novel…
The Following is about Marcus Friendly, who became Australia's sixteenth prime minister, and his line of descent through to the present day, in the person of a politician who may or may not have been his son, Max Petersen.
(From The Publisher: Years ago, in a midnight encounter beside the railroad tracks, a young boy meets a stranger with a powerful secret, a gift of uncanny understanding and a talent for knots. From this encounter, Marcus Friendly's ideas of himself take shape as he rises to become Australia's sixteenth Prime Minister. The night he dies, a shadow, 'thin as a scythe', is there to collect him when he falls. Another young boy, Ross Devlin, witnesses the event.
Ross eventually finds himself on an outback station working for Kyle Morrison, son of Australia's most famous poet, 'The Bounder'. Kyle suddenly needs help to undo a knot of his own, and a young union organiser, Max Petersen, steps in to right an old injustice.
Now, after years in parliament, Max Petersen, the inheritor of the Marcus Friendly tradition in more ways than one, awaits a call from the PM for the ministry he craves. Around him, a crisis among friends and family is unfolding, and everyone is forced to confront the legacy they have inherited, their influence in a changing world and what follows on after them.)
Click here to buy The Following from Booktopia,
Australia's Local Bookstore
7. What do you hope people take away with them after reading your work?
A feeling for the mysteries of time as they intrude themselves into our everyday experience.
8. Whom do you most admire in the realm of writing and why?
Usually the most recently read author I've liked  on my bedside table. Last year it was Gillian Mears, Foal's Bread, an instant Australian classic. Next to her Cold Light, by Frank Moorhouse, and going back a few years (but re-read annually) The March, by E.L. Doctorow.
9. Many artists set themselves very ambitious goals. What are yours?
To get the work done.
10. What advice do you give aspiring writers?
Get the work done.
Roger, thank you for playing.
Click here to buy The Following from Booktopia,
Australia's Local Bookstore
About the Contributor
Andrew Cattanach is a regular contributor to The Booktopia Blog. He has been shortlisted for The Age Short Story Prize and was named a finalist for the 2015 Young Bookseller of the Year Award. He enjoys reading, writing and sleeping, though finds it difficult to do them all at once.
Follow Andrew: Twitter