The Booktopia Book Guru asks
David Hunt
author of Girt
Ten Terrifying Questions
————————
1. To begin with why don't you tell us a little bit about yourself – where were you born? Raised? Schooled?
I was born in Paddington Women's Hospital: an 11½ pound monster, with a pointed head, jaundice, a thick pelt of black back hair, and an undescended testicle. People laughed. I liked that. I'm now a 125kg monster and still have the dorsal fur and a desire to make people laugh, but thankfully my head is now a nice round shape, I'm no longer an interesting shade of yellow, and the penny has finally dropped.
I was raised in middle-class comfort and schooled at a boy's-only public school, at which I was periodically asked to cut my long hair, to stop wearing Dunlop Volleys and a dirty-old-man blue raincoat, and to bathe more frequently.
2. What did you want to be when you were twelve, eighteen and thirty? And why?
At twelve, I wanted to be eighteen; at eighteen I wanted to be thirty; and at thirty I wanted to get back in touch with my inner-child and be twelve again. I guess this means I always wanted to be someone else. Or to have had/have/to have a TARDIS.
At twelve, I also wanted to be a zoologist because my dad was one and David Attenborough was way cool. At eighteen, I wanted to be an actor and I was prepared to work with animals and, at a pinch, small children. At thirty, I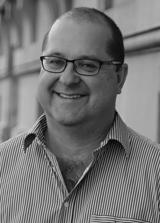 wanted to be a public servant. Aging really does kill ambition.
3. What strongly held belief did you have at eighteen that you do not have now?
At eighteen, I believed I was bulletproof, windproof and overproof. Now I believe I was a dickhead.
4. What were three big events – in the family circle or on the world stage or in your reading life, for example – you can now say, had a great effect on you and influenced you in your career path?
I'm answering this question on the basis that my career path is writing, although it's been more of a career small porch that has had many other paths leading up to it and I'm now standing in front of a big black door and I have no idea what's behind it. I hope whatever it is doesn't bite.
My mother read me The Lion, The Witch and the Wardrobe when I was tied to a hospital bed after being circumcised as a four year old. Three years later she read me John Wyndham's The Chrysalids and I was absolutely terrified. She would now be reported to child protection authorities for this, but both books had a profound impact on me and gave me a love of storytelling.
I did my first university revue at the age of 18 and found that I could make people laugh as a writer and performer. That felt good.
I had a mid-life crisis at 39 and decided that if I didn't do something creative before I was 78 then I would beat myself to death with my own Zimmer frame. Fear of failure can be a great motivator.
5. Considering the innumerable electronic media avenues open to you – blogs, online newspapers, TV, radio, etc – why have you chosen to write a book? aren't they obsolete?
I love paper. I love the way it feels. I love the way it smells. I love the way it goes all wavy and sticky-together when you drop it in the bath. I love books of all shapes, sizes and genres, although I refuse, as a matter of principle, to read anything by E. L. James.
Books will never be obsolete, although perhaps writers will be. It's only a matter of time until a Chinese supercomputer can punch out a Fifty Shades of Grey rip-off every five picoseconds.
6. Please tell us about your latest book…
My latest (and only) book is jauntily titled Girt: The Unauthorised History of Australia.
Girt is a narrative history of Australia from when people first started calling Australia home about 60,000 B.P. (Before Peter Allen) to 1824, when this great continent was formally given its current name. It selectively mines historical facts, ignores inconvenient truths, and is more biased than an unloved billiard table. In short, it is like every other Australian history book.
My favourite thing about Girt is the footnotes. I also really like the index (which I encourage anybody who reads this and then reads my book to read). Melbourne's Herald Sun gave it a lovely review, which ended with the words "a tad culturally insensitive." I would like those words on my tombstone, please.
I wrote Girt because I wanted to tell great stories about Australia's past through the distorted lens of the present and because I thought I could do that in a way that would make people laugh as they learned. I also wrote it because a very nice publisher (Black Inc) offered to commission it on the basis of a 5,000 word piece on the Burke and Wills expedition I'd submitted to (and had rejected by) a magazine.
Click here to buy Girt from Booktopia,
Australia's Local Bookstore
7. If your work could change one thing in this world – what would it be?
To give the gift of irony to the irony-deficient.
8. Whom do you most admire and why?
In terms of writers, Iain Banks and John Irving. Banks' The Wasp Factory is the best debut novel that wasn't written in the 19th century and his ability to switch between the drabbest and grittiest British realism and light but
astonishingly intelligent space opera never ceases to amaze. Irving is just a genius.
In terms of real people, Gandhi (passive resistance and loincloth), Einstein (smarts and crazy hair) and Governor Philip Gidley King (effective administration and ability to convince his wife to take in the two bastard sons he had fathered upon his convict mistress).
9. Many people set themselves very ambitious goals. What are yours?
To be happy. To make other people happy. To write another book. To give up my day job. To arrest my hairline's creeping retreat. To lose a little weight. To enjoy many more egg and bacon rolls (note to self: incompatible with previous goal). To not steal and chew other people's pens. To wear comfortable shoes more often.
10. What advice do you give aspiring writers?
In the immortal words of Nike, the Greek Goddess of Victory and Quality But Overpriced Footwear, "Just Do It."
David, thank you for playing.
Click here to buy Girt from Booktopia,
Australia's Local Bookstore
About the Contributor
While still in his twenties, John Purcell opened a second-hand bookshop in Mosman, Sydney, in which he sat for ten years reading, ranting and writing. Since then he has written, under a pseudonym, a series of very successful novels, interviewed hundreds of writers about their work, appeared at writers' festivals, on TV (most bizarrely in comedian Luke McGregor's documentary Luke Warm Sex) and has been featured in prominent newspapers and magazines. ​Now, as the Director of Books at booktopia.com.au, Australia's largest online bookseller, he supports Australian writing in all its forms. He lives in Sydney with his wife, two children, three dogs, five cats, unnumbered gold fish and his overlarge book collection. His novel, The Girl on the Page, will be published by HarperCollins Australia in October, 2018.