The Booktopia Book Guru asks
Fiona McFarlane
author of The Night Guest
Ten Terrifying Questions
————————
1. To begin with why don't you tell us a little bit about yourself – where were you born? Raised? Schooled?
I was born and raised in Sydney, in a house with a long garden and a palm tree that looked exactly like a pineapple. I went to my local primary school and then to MLC School Burwood; when I finished school, I did an Arts degree at Sydney University. After working in magazines for a few years, I moved to England to study for a PhD at Cambridge University and later still did a Master of Fine Arts in fiction at the University of Texas. I moved back to Sydney in December 2012.
2.  What did you want to be when you were 12, 18 and 30? And why?
At 12, 18 and 30, I wanted to be a writer. I've wanted to be a writer ever since I discovered that real, living people wrote books.
3. What strongly held belief did you have at eighteen that you do not have now?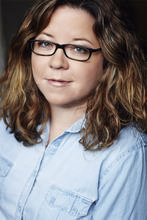 I believed it would be 100% glamorous to be a writer.
4. What were three works of art – book or painting or piece of music, etc – you can now say, had a great effect on you and influenced your own development as a writer?
There have been many, but here are three that stand out: as a teenager on a school excursion to Canberra, I saw the Caravaggio painting 'Judith Beheading Holofernes' and was completely enthralled by the lucidity of its narrative moment. Also as a teenager, I read Virginia Woolf's A Room of One's Own and felt that the world had finally been explained to me.
More recently, reading Patrick White's collection of short stories, The Burnt Ones, sent my work in a new direction – I'd lived overseas for many years, and rediscovering White (and particularly White on Greece) opened up a new way of writing about and away from and because of home.
5. Considering the innumerable artistic avenues open to you, why did you choose to write a novel?
My mother worked in a bookshop and our house was full of books, which I assume is why I wrote my first 'novel' when I was six years old: an eleven chapter masterpiece called 'The Fake God'. Mum typed it up and my brother illustrated it. It borrowed heavily from the Narnia series, and mum has never forgiven me for killing off the mother on the first page. It was many years before I actually read a novel, of course, but it seems to have been a long-held ambition of mine to write one.
6. Please tell us about your latest novel…
The Night Guest is a book about Ruth, a widow in her seventies, an independent but lonely woman who has lived a life she considers in some ways extraordinary (her parents were missionary doctors and she grew up in Fiji) and in others very ordinary (as a young woman she moved to Australia, where she married and had two sons).
The book begins on the night Ruth wakes up convinced she can hear a tiger in her lounge room; the next day, a woman called Frida arrives, announcing she's been sent by the government as Ruth's carer. The Night Guest follows Ruth and Frida's relationship as it takes strange and stranger forms, with that uncanny tiger prowling in the night.
Click here to buy The Night Guest from Booktopia,
Australia's Local Bookstore
7. What do you hope people take away with them after reading your work?
I hope people are haunted by the story they've just read; that they're left thinking about trust, dependence, aging, and the ways the past can colonise the present. A lot of people have told me they call their mothers more often after reading my book!
8. Whom do you most admire in the realm of writing and why?
Among living writers, I most admire Marilynne Robinson, who writes books of great intelligence and beauty. She seems to have an extraordinarily generous mind.
9. Many artists set themselves very ambitious goals. What are yours?
My goal is to spend as much of my life as possible writing good books.
10. What advice do you give aspiring writers?
The same advice that was given to me: read everything, work hard and be patient.
Fiona, thank you for playing.
Click here to buy The Night Guest from Booktopia,
Australia's Local Bookstore
Our own Andrew Cattanach has read The Night Guest and we'll be posting his review tomorrow. Don't forget to visit The Booktopia Blog tomorrow to check out his thoughts!
About the Contributor
While still in his twenties, John Purcell opened a second-hand bookshop in Mosman, Sydney, in which he sat for ten years reading, ranting and writing. Since then he has written, under a pseudonym, a series of very successful novels, interviewed hundreds of writers about their work, appeared at writers' festivals, on TV (most bizarrely in comedian Luke McGregor's documentary Luke Warm Sex) and has been featured in prominent newspapers and magazines. ​Now, as the Director of Books at booktopia.com.au, Australia's largest online bookseller, he supports Australian writing in all its forms. He lives in Sydney with his wife, two children, three dogs, five cats, unnumbered gold fish and his overlarge book collection. His novel, The Girl on the Page, will be published by HarperCollins Australia in October, 2018.