The Booktopia Book Guru asks
Danny Katz
author of A Book About Scary and more…
Ten Terrifying Questions
——————–

1. To begin with why don't you tell us a little bit about yourself – where were you born? Raised? Schooled?
Here's the awful truth: I'm a Canadian. I was born in Canada, I grew up in Canada, I even spoke Canadian which is kind of like English but a little more nasal and annoying. I did all the Canadian things; I ate maple syrup, I played ice-hockey, I clubbed baby seals for their fur – well, I didn't really do that, I was too young; but one day I hoped to study it at university.
Then I came to Australia and did all my schooling and university here: there was no Seal Clubbing faculty at uni so I wound up doing a degree in theatre studies and got a Bachelor of Arts which was really useful because I was able to launch into a glamorous high-powered showbiz career of failed auditions, occasional busking, car-washing, leather-belt selling, third-rate comedy-performing, and eventually five glorious years of unemployment. Then I became a writer because nothing else seemed to be working for me.
2. What did you want to be when you were twelve, eighteen and thirty? And why?
For the three years between the age of 12 and the age of 15, I wanted to be Bob Dylan: I learned all of Bob Dylan's songs, I sung with a Bob Dylan whine, I even played a harmonica like Bob, only I didn't have a harmonica-brace, so I bent a coathanger into a harmonica-holding shape, and used it like that, then I twisted it back into a coathanger whenever mum needed to hang up her slacks.
When I reached adulthood, and started thinking about a possible career, the first thought that came into my head was: "Danny, why not write musicals? – it's a sure-fire way to get rich and successful fast". So I embarked on a project called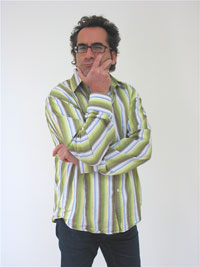 The Golem of Prague, which was a techno-electronic-symphonic-Middle-Eastern-rock-folk-classical-fusion musical about a giant Jewish monster made out of mud who terrorises the citizens of Prague during the 15th century. Yes, here was truly a musical with popular appeal, a show just dripping with box-office potential. Ten years later, I wasn't so sure, so I gave up.
At 30, I just wanted to be a good, loving partner for my wife and a terrific dad for my kids and a decent wholesome human who devoted his energies to his community – no wait, that's Mahatma Ghandi, I always get us mixed up. At 30, I wanted a job. That's all I wanted. Then I got one, writing for a newspaper. It was a great relief.
3. What strongly held belief did you have at eighteen that you do not have now?
That I was a creative genius who would bless the world with some of the greatest pieces of art known to humankind and my name would live on in legend and song for eternity. I'm not saying it won't still happen, but I'm just not as sure as I was.
4. What were three works of art – book or painting or piece of music, etc – you can now say, had a great effect on you and influenced your own development as a writer?
Annie Hall, Woody Allen. A template for all humour writing, whether screenplay or prose. I watch it again and again, it's a Zumba-workout for my comedy-gland.
Charles Bukoswki, Tales Of Ordinary Madness, you could break all the writing rules to tell a story, and CAPS ARE LOTS OF FUN TO USE in moderation of course, NOT ALL THE TIME.
Libby Gelman Waxner column in Premiere Magazine. Made me love short-form humour writing, 600 – 800 words, the perfect format.
5. Considering the innumerable artistic avenues open to you, why did you choose to write a book?
Because I love picture books, I love seeing kids read picture books, and I get to work with the with the beautiful talented illustrator Mitch Vane, who also happens to be my wife, so I can say she's beautiful without sounding too creepy.
6. Please tell us about your latest book…
A Book About Scary is a book about scary. Derrrrr. It's a funny, beautiful alphabet book listing all the stuff that kids are scared of, the little innocent harmless things, like moths, bath-drains, letterboxes, girls. Yeah, girls. They're scarrrrrrry.
From the Publisher:
Everyone's afraid of something. Hairy toes, cockroaches, robbers…Katz and Vane have combined their talents again to create an A to Z of Scary — from Alien Zombies to being in bed in the dark (zzzzzz). This is a very tongue-in-cheek look at all things scary, from the traditional (fear of the dark) to the quirky (sticking your hand in a letterbox)
Click here to buy A Book About Scary from Booktopia,
Australia's Local Bookstore
7. What do you hope people take away with them after reading your work?
That it's okay to be scared of stuff, even if your fear makes no sense (I'm scared of cotton balls. Seriously. They make my skin crawl. Especially when you rip them in half. Okay… that's enough…must….move….on….)
8. Whom do you most admire in the realm of writing and why?
I admire anyone who can write a novel. That's one tough gig. You work alone for months, years, you live in your head, you carry characters through thousands of words, you decide their fate, you control their environment, your are master of their universe, and you do it all by yourself. You are a God and it's not easy being a God. It's exhausting.
9. Many artists set themselves very ambitious goals. What are yours?
I love movies so I'd love to write one, or have one of my books adapted into a movie. It's not about money (yes it is), it's just about the satisfaction of seeing your own dreams glimmering on the big screen (no it's not, it's about money).
10. What advice do you give aspiring writers?
Writing is the only profession that you can do with no budget – just a computer, or a pen and paper, or some charcoal and footpath. Anyone can get started, there's no excuses. So write. That's it. And never be clever.
Danny, thank you for playing.
Click here to buy A Book About Scary from Booktopia,
Australia's Local Bookstore
Danny is currently on a blog tour across the country. Upcoming dates include:
Friday 2nd Aug           About a Bugg              http://aboutabugg.com/
Saturday 3rd Aug       Kids Book Review       http://www.kids-bookreview.com
About the Contributor
While still in his twenties, John Purcell opened a second-hand bookshop in Mosman, Sydney, in which he sat for ten years reading, ranting and writing. Since then he has written, under a pseudonym, a series of very successful novels, interviewed hundreds of writers about their work, appeared at writers' festivals, on TV (most bizarrely in comedian Luke McGregor's documentary Luke Warm Sex) and has been featured in prominent newspapers and magazines. ​Now, as the Director of Books at booktopia.com.au, Australia's largest online bookseller, he supports Australian writing in all its forms. He lives in Sydney with his wife, two children, three dogs, five cats, unnumbered gold fish and his overlarge book collection. His novel, The Girl on the Page, will be published by HarperCollins Australia in October, 2018.