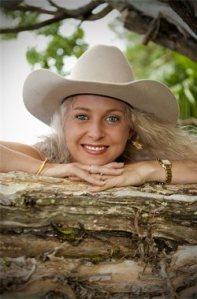 As part of Australian Romance Month, Romance Specialist Haylee Nash will be interviewing one Australian Romance author per day. Much like a beauty pageant, each author will be using their charm, wit and grace (and the power of social media) to take home the Booktopia Romance Bestseller crown. Booktopia invites bestselling Rural Romance author Mandy Magro to the stage.
1. Describe the perfect date.
Out in the bush, snuggled up in front of a campfire with the man of my dreams, the glimmering country sky above and nothing to be heard for miles other than the sounds of nature. What could be more romantic than that?
2. Which of your books are you most proud of?
I would have to say my first novel, Rosalee Station, because it is the one that got me published. It has a lot of my own life entwined within the story and the heroine, Sarah, is very much like me.
3. What is the hardest thing about being a romance author?
Coming up with different ways to pack a punch to the very first kiss, the first lingering touch and of course finding different ways for the characters to make mind-blowing love for the first time.
4. What is the best thing about being a romance author?
I'm a very passionate person so I love being able to put my fantasies onto the page and having the power to make the two main characters fall madly in love with each other. I'm a firm believer in leaving the bedroom door WIDE open in my novels, and I adore writing these scenes.
5. Who (aside from a significant other) do you swoon over?
I absolutely adore Joaquin Phoenix, especially after he played the role of Johnny Cash in Walk The Line. I love men that are, well, a little damaged in some way. The scar on Joaquin's lip is so damn sexy!
6. Tell us something very few people know about you.
I'm completely and utterly claustrophobic. Driving through underground tunnels freaks me out!
7. Describe your writing style in three words.
Passionate, Spontaneous, Australian.
Click here to buy Rosalee Station from Booktopia,
Australia's local bookstore
8. What is your definition of a good book?
A story that grabs me from the very first line, and one that has me up reading until all hours of the night.
9. Which author would you invite to a dinner party and why?
I would invite Sheryl McCorry, author of Diamonds and Dust.  Her epic true story of life out on the land is one that impacted me in so many different ways. She used to take baby crocodiles to school for show and tell, what a woman! I reckon a good old chin wag with her, over a few red wines, would be a very interesting one indeed!
10. Finish this sentence: I would do anything for love, but I won't do_____
…anything that means I am not being true to myself. True love is all about the other person loving you unconditionally, for who you are.
---
Mandy Magro lives in the picturesque country township of Mossman, North Queensland, with her husband and daughter. She loves writing about the Australian outback and all the wonderful characters that live there, and her own adventures on the land have made her the passionate country woman she is today.

About the Contributor