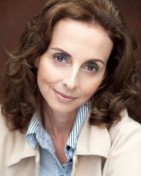 As part of Australian Romance Month, Romance Specialist Haylee Nash will be interviewing one Australian Romance author per day. Much like a beauty pageant, each author will be using their charm, wit and grace (and the power of social media) to take home the Booktopia Romance Bestseller crown. Booktopia invites bestselling Rural Romance author Nicole Alexander to the stage.
1. Describe the perfect date.
Winter in the outback means a crackling fire, a glass of merlot and my man by my side.
2. Which of your books are you most proud of?
Every novel I write has a little piece of me in them. They are all a part of my soul.
3. What is the hardest thing about being a romance author?
Some of my novels are outside the romance genre, however the passion I have for the land, its history and its beauty, makes writing both a privilege and a struggle at times.
4. What is the best thing about being a romance author?
Character development, particularly profiling strengths and weaknesses and how these traits may help or hinder a relationship, is a fascinating process in the planning stage.
5. Who (aside from a significant other) do you swoon over?
Johnny Depp is pretty darn cool.
6. Tell us something very few people know about you.
I have always had a great love of the stage and still think about working in live theatre.
7. Describe your writing style in three words.
Authentic, rich, engaging.
Click here to buy Absolution Creek from Booktopia,
Australia's local bookstore
8. What is your definition of a good book?
One that has compelling characters within a strong narrative framework.
9. Which author would you invite to a dinner party and why?
Ernest Hemingway. I read The Old Man and the Sea in my early teens and decided then and there that I wanted to write. Not because of Hemingway's fabulous prose but because I aspired to his life; the big game hunting, martini drinking, Bull fight aficionado! – I guess he was my first celebrity crush. Later I read all his works and then I truly was inspired to write, for all the right reasons.
10. Finish this sentence: I would do anything for love, but I won't do_____
…the station office accounts on a Sunday!
---
In the course of her career Nicole Alexander has worked both in Australia and Singapore in financial services, fashion, corporate publishing and agriculture. A fourth-generation grazier, Nicole returned to her family's property in the late 1990s. She is currently the business manager there and has a hands-on role in the running of the property. Nicole has a Master of Letters in creative writing and her novels, poetry, travel and genealogy articles have been published in Australia, Germany, America and Singapore. She is the author of three novels: The Bark Cutters, A Changing Land and Absolution Creek.

About the Contributor