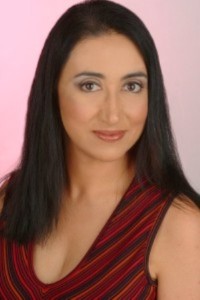 As part of Australian Romance Month, Romance Specialist Haylee Nash will be interviewing one Australian Romance author per day. Much like a beauty pageant, each author will be using their charm, wit and grace (and the power of social media) to take home the Booktopia Romance Bestseller crown. Booktopia invites bestselling Contemporary Romance and Young Adult author
Nicola Marsh to the stage.
1. Describe the perfect date.
Fabulous food. Sexy saxophone. Dim lighting. Irresistible aftershave. Loaded stares. Spontaneous laughter. Clever innuendo. Subtle touches. Slow building sexual tension…
2. Which of your books are you most proud of?
Hmm…after 40 books, this is incredibly difficult! If I had to choose one, I'd say Busted in Bollywood, which was the first full-length mainstream romance I wrote. Plus I had a ball researching the food!
The others I'm most proud of are my young adult titles, Banish and Scion of the Sun. After writing contemporary romances, it was a challenge to write supernatural YA, one I relished.
3. What is the hardest thing about being a romance author?
People stereotyping me as writing 'those' books. I'm proud to be a romance author and love reading the genre too. I wish more people would give it a try rather than pre-judging.
4. What is the best thing about being a romance author?
Being able to do my dream job! It's amazing fun writing romance and I get paid to do it!
5. Who (aside from a significant other) do you swoon over?
My hubby has been very graceful in granting me 'hall passes' for my swoonworthy guys: Alex O'Loughlin, Michael Buble, Matthew Le Nevez, Josh Charles…shall I stop there before you think too badly of me?
6. Tell us something very few people know about you.
I'm scared of moths. Have been since I was little.
7. Describe your writing style in three words.
Fun. Flirty. Fresh.
Click here to buy Busted in Bollywood from Booktopia,
Australia's local bookstore
8. What is your definition of a good book?
One that sucks me in so completely I can't put it down and will happily lose sleep over to finish. Strong-willed characters, plenty of sparks between them and a believable plot are guaranteed to keep me riveted.
9. Which author would you invite to a dinner party and why?
Harlan Coben, because he's a long time favourite of mine and I'd love to pick his brain on how he creates such riveting thrillers.
10. Finish this sentence: I would do anything for love, but I won't_____
…change my footy team. North Melbourne Kangaroos forever!
---
As a girl, Nicola dreamed of being a journalist and travelling the world in search of the next big story. Instead, she chose a career in the health industry while honing her writing skills with a daily entry in a "not-so-secret" journal! She started writing late 2001 and found once she started she couldn't stop! Nicola currently writes for Harlequin Mills & Boon, Entangled Publishing, Month9Books, Harlequin Teen and Crimson Romance, has published 40 books and sold over four million copies worldwide.

About the Contributor