As part of Australian Romance Month, Romance Specialist Haylee Nash will be interviewing one Australian Romance author per day. Much like a beauty pageant, each author will be using their charm, wit and grace (and the power of social media) to take home the Booktopia Romance Bestseller crown. Booktopia invites bestselling erotic fiction author Lexxie Couper to the stage.
1. Describe the perfect date.
My perfect date would be a carpet picnic on the living room floor, with hot chips and chiko rolls on the menu. We would watch either episodes of Doctor Who or any of the Marvel movies and my date wouldn't mind when I swooned over Chris Hemsworth as Thor. We would follow this with some ice cream sprinkled in Milo as we talk about the best way to beat zombies.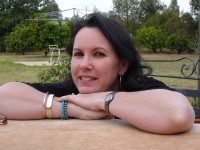 2. Which of your books are you most proud of?
This is such a hard one to answer. I try to challenge myself with every new book I start to write beyond my "safe" walls. I started my professional writing career with erotic sci-fi and since then have pushed myself to write different genres. Each one requires me to draw deeper on my creativity and push my muse–who is a cantankerous pain in the butt most of the time–beyond his comfort zone. Yes, ladies and gentlemen, my muse is male. I'm going to go with two books: the first is Endless Lust, my erotic horror from Ellora's Cave. It's written entirely in the heroine's POV which meant I had little escape from the horrific situation I was putting her through. Writing that book took me to a very dark place in my psyche but really showed me what I could do when I put my mind to it. It won the EPIC Award in 2011 for Best Horror Romance. The second book (yeah, I know I'm cheating) is Guarded Desires, my first ever male/male GLBT romance published by Samhain Publishing. I was genuinely petrified of capturing the raw emotions of a gay romance but this fear pushed me to really develop the characters rather than rely on sex to fill the pages. I truly am proud of the end result.
3. What is the hardest thing about being a romance author?
Hmmm…because I write erotic romance most of the time, I'm constantly dealing with the preconceived idea that I write porn for a living. It really irks me that people think erotic romance is porn. But I think the hardest thing is the discipline required NOT to spend my days watching Channing Tatum and Ryan Gosling movies and calling it research. Oh and keeping my collection of pink boas clean and ready for wearing during every writing session. (By the way, I do not have a collection of pink boas. Honest *grin*)
4. What is the best thing about being a romance author?
The best thing about being a romance author is watching Ryan Gosling and Channing Tatum movies all day for research. Okay, the real answer is sharing my love of and unending belief in the HEA with as many people in the world as I can. As Miracle Max says in The Princess Bride, true love is the greatest thing in the world.
5. Who (aside from a significant other) do you swoon over?
Ohhh…Colin Firth. First and foremost, Colin Firth. His Mr. Darcy is THE ultimate alpha male romantic hero, in my humble opinion, followed by Chris Hemsworth, especially when he's playing Thor. *sigh*
6. Tell us something very few people know about you.
This is tricky. I'm pretty much an open book. Umm…hmmm…oh, okay, how's this, back in my art student days–yes, I started my adult life studying art at university–I once posed nude for a life drawing class. Oh man, I don't think I even told my mum and dad about that little adventure.
7. Describe your writing style in three words.
Impulsive. Erratic. Adventurous.
Click here to buy Guarded Desires from Booktopia,
Australia's local bookstore
8. What is your definition of a good book?
My definition of a good book is one that I can't put down no matter how late at night/early in the morning it is. One that lingers with me for a long time (the best never leave me). One that makes me feel everything that the characters feel.
9. Which author would you invite to a dinner party and why?
I can't decide between Stephen King, Neil Gaiman, Chuck Wendig or MaryJanice Davidson. Can I have all four? Why them? Because Stephen King is my writing hero, Neil Gaiman is one of the nicest authors I've ever encountered online and his imagination astounds me, Chuck Wendig because his daily blog posts crack me up so much I can barely see through the tears and MaryJanice Davidson because she gave the world Queen Betsy and the Undead series. (Oh and if I could resurrect him, I'd have to add in William Shakespeare, just so I could see his face when we all sit down and watch Shakespeare In Love. Hee hee hee.)
10. Finish this sentence: I would do anything for love, but I won't do_____
…skydiving. I don't care how much my husband would beg, I'm not jumping out of a plane for anything. Uh-uh, no way. Not happening. I also wouldn't go to a Justin Bieber or One Direction concert, but thankfully no one I love would either, so that's good.
---
Lexxie Couper started writing when she was six and hasn't stopped since. She's not a deviant, but she does have a deviant's imagination and a desire to entertain readers with her words. Add the two together and you get erotic romances that can make you laugh, cry, shake with fear or tremble with desire. Sometimes all at once. When she's not submerged in the worlds she creates, Lexxie's life revolves around her family, a husband who thinks she's insane, a indoor cat who likes to stalk shadows, and her daughters, who both utterly captured her heart and changed her life forever.

About the Contributor