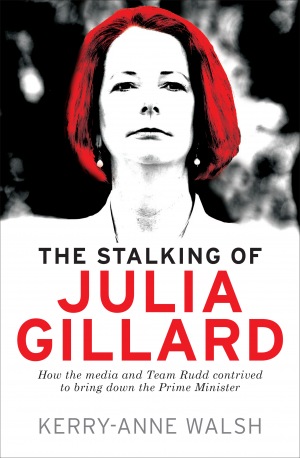 The story of one of the most extraordinary episodes in recent Australian political history, of how a powerful media pack, a vicious commentariat and some of those within her own party contrived to bring down Australia's first woman prime minister.
'Don't write crap. Can't be that hard. And when you have written complete crap, then I think you should correct it.' Julia Gillard
When Julia Gillard took the reins of the Australian Labor Party on 24 June 2010 she did so with the goodwill of the majority of her party and a fawning Canberra press gallery.
The man she had supplanted, Kevin Rudd, led an isolated band of angry Labor voices at this surprising turn of events. The collective political and media verdict was that his time, short though it had been, was up. But when Gillard announced in February 2011 that her government would introduce a carbon pricing scheme, Rudd and his small team of malcontents were already in lock-step with key Canberra and interstate journalists in a drive to push her out of the prime ministerial chair.
Never has a prime minister been so assiduously stalked. Cast as a political liar and policy charlatan, Julia Gillard was also mercilessly and relentlessly lampooned for her hair, clothes, accent, her arse, even the way she walks and talks. Rudd, on the other hand, could barely do any wrong. His antics were afforded benign, unquestioning prime-time media coverage.
The Stalking of Julia Gillard focuses on Team Rudd and the media's treatment of its slow-death campaign of destabilisation, with its disastrous effect on Gillard and the government's functioning. It is about a politician who was never given a fair go; not in the media, not by Rudd, not by some in caucus.
Click here to buy The Stalking of Julia Gillard from Booktopia,
Australia's Local Bookstore
About the Author
Kerry-Anne Walsh worked for 25 years in the federal parliamentary press gallery, as chief political correspondent for publications such as the Daily Telegraph, the Bulletin magazine and the Sun-Herald. She also wrote for a string of international publications, and worked in both radio and TV. She is a regular political commentator on Sky News, Radio New Zealand and the ABC.
About the Contributor
Andrew Cattanach is a regular contributor to The Booktopia Blog. He has been shortlisted for The Age Short Story Prize and was named a finalist for the 2015 Young Bookseller of the Year Award. He enjoys reading, writing and sleeping, though finds it difficult to do them all at once.
Follow Andrew: Twitter