The Booktopia Book Guru asks
Craig Harper
author of Pull Your Finger Out
Ten Terrifying Questions
1. To begin with why don't you tell us a little bit about yourself – where were you born? Raised? Schooled?
I was born in the thriving, bustling metropolis of… Ballarat. I am a needy, attention-seeking only child. I was raised in Tasmania, rural Victoria and various suburbs of Melbourne. My family moved a lot. I think my parents were trying to avoid the law.
2. What did you want to be when you were 12, 18 and 30? And why?
At 12, I wanted to be skinny. I was a fat kid. A whopper, in fact. At 18, I wanted to be a bodybuilder, gym owner and chick magnet. All very unlikely outcomes. At 30 I wanted to be less tired and stressed because I was a gym owner, coach and teacher who worked way too many hours.
3. What strongly held belief did you have at 18 that you do not have now?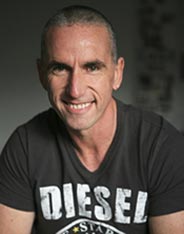 That I wasn't good enough, smart enough or talented enough to do most things.
4. What were three big events – in the family circle or on the world stage or in your reading life, for example – you can now say, had a great effect on you and influenced you in your career path?
1. Losing 30 kilos as a 14 year old. 2. Opening my own business. 3. Working in the media.
5. Considering the innumerable electronic media avenues open to you – blogs, online newspapers, TV, radio, etc – why have you chosen to write a book? Aren't they obsolete?
I've been around for a long time, so have books. I like the synergy. And you can't hold a blog.
6. Please tell us about your latest book…
It's a self-help book for people who hate self-help. It's a no BS, jargon-free approach to creating and sustaining positive change in our life.
Click here to buy Pull Your Finger Out from Booktopia,
Australia's Local Bookstore
What do you want to change today?
Want to stop wasting your time, talent and opportunities?
Want to break the cycle of almost, but never quite, getting things done?
Want to take control of your career, your body and your life?
Want to overcome your fears and succeed in your goals?
Want to stop making and breaking the same promises?
Craig Harper is here to tell you how.
He presents 101 no-nonsense, straight-talking ways to help you get the most out of yourself – from breaking habits and getting motivated to developing self-knowledge and learning when to say no.
Drawing on his vast experience as a motivational speaker, AFL conditioning coach, educator, corporate consultant and presenter, Craig offers practical, personal and effective advice that will set you on the road to realising your potential.
The self-help book for people who hate self-help.
7. If your work could change one thing in this world – what would it be?
There would be no weapons.
8. Whom do you most admire and why?
My mum. She puts up with my dad.
9. Many people set themselves very ambitious goals. What are yours?
To be happy and to be a positive influence in the lives of others.
10. What advice do you give aspiring writers?
Write less with your head and more from the heart.
Don't hurry.
Create a writing process (structure, organisation, accountability, time-line) and don't over-think it.
Craig, thank you for playing.
Click here to buy Pull Your Finger Out from Booktopia,
Australia's Local Bookstore
About the Contributor
While still in his twenties, John Purcell opened a second-hand bookshop in Mosman, Sydney, in which he sat for ten years reading, ranting and writing. Since then he has written, under a pseudonym, a series of very successful novels, interviewed hundreds of writers about their work, appeared at writers' festivals, on TV (most bizarrely in comedian Luke McGregor's documentary Luke Warm Sex) and has been featured in prominent newspapers and magazines. ​Now, as the Director of Books at booktopia.com.au, Australia's largest online bookseller, he supports Australian writing in all its forms. He lives in Sydney with his wife, two children, three dogs, five cats, unnumbered gold fish and his overlarge book collection. His novel, The Girl on the Page, will be published by HarperCollins Australia in October, 2018.