The Booktopia Book Guru asks
Mandy Magro
author of Flame Tree Hill and more…
Six Sharp Questions
—————————
1. Congratulations, you have a new book. What is it about and what does it mean to you?
Thanks, I'm thrilled to see Flame Tree Hill hitting the marketplace! Kirsty Mitchell is involved in a terrible accident which haunts her to this very day. Returning to Flame Tree Hill after three years spent overseas she finds herself coming face to face with her past demons, the man she has loved since she was a teenager and the absolute terror of being told she has breast cancer. Kirsty has never been a quitter, and that isn't about to change. Drawing from the strength of her family and friends while immersing herself in the beauty of FNQ she fights the cancer with everything she has. That is, until she reveals an earth-shattering secret and the budding relationship she's begun with local vet, Aden, begins to crumble.
This novel means everything to me, and more. My best friend, Joanne Jackson, was the inspiration behind this story. She has battled breast cancer, not once but twice, and won! I gathered my research from journals she had kept throughout her cancer journey, and found myself writing through quite a few tears as I relived her terrifying journey through her own written words. It helped make Flame Tree Hill the powerful story it is, I think.
Click here to buy Flame Tree Hill from Booktopia,
Australia's Local Bookstore
2 Times pass. Things change. What are the best and worst moments that you have experienced in the past year or so?
I've had a few highs and lows over the past year, in my career and in my personal life. The lowest moment was when I experienced my third miscarriage in a matter of two years. But my hubby and I haven't given up, and we will keep trying until we have another little addition to our wonderful family! My high note was working with Adam Brand to have him as a character in my next novel, Driftwood. It was great fun. Oh, and also spending three months over in the UK…a very memorable trip.
3. Do you have a favourite quote or passage you would be happy to share with us? It doesn't need to be deep but it would be great if it meant something to you.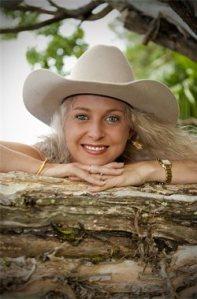 Don't waste time counting the seconds, instead make every second count.
4. Writers have often been described as being difficult to live with. Do you conform to the stereotype or defy it? Please tell us a little about the day to day of your writing life.
I don't think I'm that hard to live with, other than my fanatical cleanliness. My poor hubby is forever asking me where I've moved things to and I simply reply "where it goes". Other than that I'm a pretty easy-going person. I don't really have a set routine when it comes to my writing, I just do it when I can, as often as I can and wherever I can – writing, that is!
5. Some writer's claim not to be influenced by the needs of the marketplace, while others seem obsessed by it. Would you please describe how the marketplace affects your writing (come on, tell the truth!).
I'm sorry, I'm going to be a bit tedious here and say that I write from the heart. I cannot write something if I don't feel it. I do believe I may have to one day move away from the rural romance genre, if the huge desire for it peters out. But, at the moment, it's where I'm in my happy place, writing Australian rural romance with my hero being a sexy, rough-around-the-edges cowboy.
6. Unlikely Scenario: You've been charged with civilising 20 ill-educated adolescents but you may take only five books with you. What do you take and why?
Where did I come from? by Peter Mayle – just to eek them out and catch their attention!
Follow Your Heart by Andrew Matthews – to give them some positive things to think about.
Jamie's 15 Minute Meals – to teach them how to cook without it taking forever (although the clean up seems to take me over an hour! Jamie didn't put that in his book!)
Outdoor Survival Guide by Dave Pearce – I reckon kids spend too much time indoors these days and need to get back to basics!
A diary each – to express all those adolescent emotions!
Mandy, thank you for playing.
Click here to buy Flame Tree Hill from Booktopia,
Australia's Local Bookstore
About the Contributor
While still in his twenties, John Purcell opened a second-hand bookshop in Mosman, Sydney, in which he sat for ten years reading, ranting and writing. Since then he has written, under a pseudonym, a series of very successful novels, interviewed hundreds of writers about their work, appeared at writers' festivals, on TV (most bizarrely in comedian Luke McGregor's documentary Luke Warm Sex) and has been featured in prominent newspapers and magazines. ​Now, as the Director of Books at booktopia.com.au, Australia's largest online bookseller, he supports Australian writing in all its forms. He lives in Sydney with his wife, two children, three dogs, five cats, unnumbered gold fish and his overlarge book collection. His novel, The Girl on the Page, will be published by HarperCollins Australia in October, 2018.