Booktopia's Editorial Director Caroline Baum is on assignment in the Big Apple. She shares an experience of musically titillating proportions.
So I'm in New York flicking through the show listings in Time Out when an off-Broadway musical catches my eye. Its called Cuff Me, which also works when you say the first word backwards.
I book a ticket online, managing to score the last one for opening night. Imagine my complete  disbelief when I get to the theatre and discover that the Actors Temple is not a jumped up version of the Actors Studio, it is exactly what it says it is: a synagogue.
Feeling like I'm in a Seinfeld dream sequence (George invites Jerry to a smutty show only to discover its at the local shul, where they are greeted by the rabbi who turns out to be Elaine in disguise) I find myself surrounded by a party of women speaking loudly in Hebrew. But there are also quite a few couples there. One man has bought tickets for his partner as a gift.
"Surprised?" he asks her.
"With you, never," she purrs, stroking his chest.
Unlike a traditional service at conservative synagogues, at least men and women get to sit together.
The set is pretty simple, three panels on wheels festooned with various sex toys including a double ended dildo that looks a bit like a boomerang.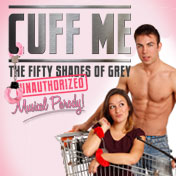 There is a cast of four, two men, two women (Tina Jensen, who plays our heroine's friend Kate and her inner goddess was outstandingly energetic in her broad  lewdness) and they are hugely competent singers and movers, as you'd expect in this city and while the lyrics are not consistently sharp in their savagery they are very adult, explicit and completely trash the book.
Tunes are borrowed and distorted, with apologies to Mamma Mia, Britney and Beyonce (a spirited All You Horny Ladies with the gesture of putting a ring on it substituted with page turning). There is an effective abuse of If I were A Rich Man and Hey Big Spender for good measure. And while there is warning about the strobe effect, there is no warning about the language which is as raunchy as it gets (a sample lyric : ' I wanted to finger your butthole with mayonnaise').
Nice.
The only literary wink is that the lawyer who negotiates the contract Anastasia signs with Christian is called Willy Blowman. Oh and there are some references to the Twilight saga.
Crude? You bet.
Unauthorised? Ooh yeah, baby.
I'm tempted to say it was spankingly good, and a surefire hit. There, I just said it.
______________________________
Caroline Baum is Booktopia's Editorial Director and a journalist and broadcaster, working as founding editor of Good Reading magazine, features editor for Vogue, presenter of ABC TV's popular bookshow, Between the Lines, and Foxtel's Talking Books, and as an executive producer with ABC Radio National.
She is a regular contributor to national newspapers and magazines and is in demand as a presenter at arts and literary festivals around the country and overseas.
You can follow Caroline on twitter at @mscarobaum
About the Contributor
Andrew Cattanach is a regular contributor to The Booktopia Blog. He has been shortlisted for The Age Short Story Prize and was named a finalist for the 2015 Young Bookseller of the Year Award. He enjoys reading, writing and sleeping, though finds it difficult to do them all at once.
Follow Andrew: Twitter