The Booktopia Book Guru asks
Barbara Hannay
author of Zoe's Muster
Ten Terrifying Questions
—————————-
1. To begin with why don't you tell us a little bit about yourself – where were you born? Raised? Schooled?
I was born in Sydney and at the age of four I moved Brisbane, where I attended The Gap State High School and the University of Queensland. I began a Bachelor of Arts degree, which I later completed in Townsville while I was teaching.
2. What did you want to be when you were 12, 18 and 30? And why?
At 12, I wanted to be a star netballer. At 18, my focus was on becoming a high school teacher, although I was a closet poet and nursed secret longings to be a 'real' writer. At 30, I was immersed in motherhood and writing stories to entertain my small children, but the dream of publication was still there.
3. What strongly held belief did you have at 18 that you do not have now?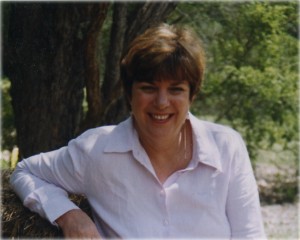 At 18, I was convinced that people in the city led much more exciting lives than country folk. I had the nerve to feel sorry for people in regional or rural towns. I left Brisbane when I started teaching, and I soon realised how wrong I was. I had a lot to learn.
4. What were three works of art – book or painting or piece of music, etc – you can now say, had a great effect on you and influenced your own development as a writer?
Books, paintings, sculpture and music have provided inspirations throughout my life, and looking back, I can see that my preferences have always been romantic.
The impact of Ethel Turner's Seven Little Australians, which I read at the age of seven, has been a lasting one. Judy's death rocked me and taught me so much about emotional punch in writing.
As a teenager, I was fascinated by Rodin's sculpture The Kiss, and by the paintings of the French Impressionists.
I love most classical music and I often listen to it while I'm writing. A standout for me is the Brahms's violin concerto. There are sections in the first movement that literally stop me in my tracks. Every time.
5. Considering the innumerable artistic avenues open to you, why did you choose to write a novel?
I think this form chose me. When the time was right – and I'd been waiting a long time to fulfil my creative dreams – it finally felt inevitable. I was teaching a unit of popular fiction to my Year Eleven class and we had to take a close look at the romance genre. I'd been reading the "classics" for years, but I immediately saw the similarities between the modern romances and the books I'd loved in my teens – the girls' classics – the Anne books, Little Women, Daddy Longlegs etc and I, quite simply, fell in love with the idea of writing a romance.
6. Please tell us about your latest novel…
The stories of three women are interwoven in Zoe's Muster. When city chef, Zoe Porter, discovers that her biological father is Peter Fairburn, a North Queensland cattleman, she takes a job as a mustering camp cook so that she can meet him. However, her mother, Claire, begs Zoe not to reveal her relationship to this cattleman, as the possible scandal could threaten her husband's political hopes.
Zoe has always been her family's black sheep, and her journey into the bush is an important journey of self-discovery. Ultimately, it's also about finding love in the most unlikely place. For Claire, waiting in Brisbane, it's a time of terrible tension when she also reassesses her marriage and her life choices. Meanwhile, Peter's wife Virginia has no idea that Zoe's secret could threaten her own happiness.
All three women have adjustments to make, but so does the romantic hero, Mac McKinnon, who's attracted to Zoe, but nurses strong prejudices against city women.
It's a story about adjusting to the past and making way for new futures.
Click here to buy Zoe's Muster from Booktopia,
Australia's No.1 Online Book Shop
7. What do you hope people take away with them after reading your work?
Mostly, I hope they'll look on this book as an enjoyable read. I hope that my own love of the bush and its people will shine through, and I hope Zoe and Mac's romance will leave readers with a happy sigh.
8. Whom do you most admire in the realm of writing and why?
I have huge admiration for fellow Penguin author, Anne Gracie, who not only writes the most delightful and witty Regency romances, but who is also an incredibly inspiring and generous teacher of writing.
9. Many artists set themselves very ambitious goals. What are yours?
I want each book to be better than the last. With 40 novels behind me, I'm still learning.
10. What advice do you give aspiring writers?
Read widely and deeply until you find the right kind of story telling that suits your writing voice. Have fire in your belly and be prepared to work hard. It's not easy, but don't give up.
Barbara, thank you for playing.
About the Contributor
While still in his twenties, John Purcell opened a second-hand bookshop in Mosman, Sydney, in which he sat for ten years reading, ranting and writing. Since then he has written, under a pseudonym, a series of very successful novels, interviewed hundreds of writers about their work, appeared at writers' festivals, on TV (most bizarrely in comedian Luke McGregor's documentary Luke Warm Sex) and has been featured in prominent newspapers and magazines. ​Now, as the Director of Books at booktopia.com.au, Australia's largest online bookseller, he supports Australian writing in all its forms. He lives in Sydney with his wife, two children, three dogs, five cats, unnumbered gold fish and his overlarge book collection. His novel, The Girl on the Page, will be published by HarperCollins Australia in October, 2018.