The Booktopia Book Guru asks
Anita Heiss
author of Am I Black Enough For You?, Paris Dreaming, Manhattan Dreaming and many more…

Six Sharp Questions
 ————–
1. Congratulations, you have a new book. What is it about and what does it mean to you?
Thank you. My new book Am I Black Enough For You? is a memoir based on my identity as an urban Aboriginal woman, tracing my life growing up in the 70s right through to becoming a full-time writer, advocate for other Aboriginal writers and an Ambassador for Indigenous literacy.
This book will be one of my most significant as it comes at a time when I feel Australians are struggling for an identity as a nation, and in doing so have taken to irrationally targeting those who are strong in their own sense of identity, as I and many other Aboriginal people are.
I hope that by unravelling my own forty-plus years of life as an Aboriginal person, that the general Australian reading public and students in our schools and colleges, come to appreciate without criticism or concern, the diversity and complexity of Aboriginal identity in the twenty-first century, and that the power of self-identity and representation is a right we should all enjoy.
PRE-ORDER your copy of Am I Black Enough For You? by Anita Heiss
from Booktopia, Australia's No.1 Online Book Shop
2. Time passes. Things change. What are the best and worst moments that you have experienced in the past year or so?
I'm an incredibly positive person and appreciate the good things that happen every day. But to narrow it down and considering my goals in 2011 I'd say the best moments for me would be:
* releasing Paris Dreaming;
* having a month-long writing residency at QUT in Brisbane (which allowed me to teach as well as research and start plotting my next novel Tiddas);
* visiting a school on Thursday Island;
* having Christmas Day in New York City;
* taping the pilot of my own TV chat show;
* going back to Wiradjuri country (Tumut and Cowra) for community events;
and taking time out to read deadly Australian literature like P.M.Newton's The Old School, while lying under an palm tree in Noumea!
Because I try to find a positive in every negative, I don't really want to dwell on the worst moments here, suffice to say though, as you will read in my memoir, going through a legal process to retain my right to be free from racial vilification wasn't pleasant.
3. Do you have a favourite quote or passage you would be happy to share with us?
It doesn't need to be deep but it would be great if it meant something to you.
'The heart has its reasons which reason knows nothing of.' Blaise Pascal
4. Writers have often been described as being difficult to live with. Do you conform to the stereotype or defy it? Please tell us a little about the day to day of your writing life.
If I am difficult to live with I don't think it's because I'm a writer. Anyway, I live by myself and I don't annoy me at all! 🙂 Seriously, I made a conscious decision to move my 'work' away from home a few years ago in an attempt to have a better work /life balance.
Writing isn't a hobby for me. And it's not something I do part-time after I drop the kids off or plan meals for other people. Writing is my full-time job, it is my passion, it is my career. And so I rent an office where I can behave and feel like a professional writer.
My day begins with a long walk 3-4km to clear my head, plan my day, smell the roses as they say. I'm at my desk in Rosebery by 9.30am, tweet for myself, the Indigenous Literacy Foundation (of which I am an Ambassador) and the National Aboriginal Sporting Chance Academy (of which I am a board member). I do Facebook updates, check blog comments and then go through my list of 'To Dos' for the day.
This may include: writing or working on edits of a new book, answering emails to students doing assignments, writing a post for my grateful blog (or working with a guest blogger), writing a travel story or article, preparing a lecture, conference paper or writing workshop, doing admin related to my bookings as an author and public speaker (for schools, luncheons, uni visits) and answering blog questions like this! 🙂 And of course, then there's my life on the road, which is the other 60% of the time!
5. Some writers claim not to be influenced by the needs of the marketplace, while others seem obsessed by it. Would you please describe how the marketplace affects your writing (come on, tell the truth!).
Of course I'm aware of the market because I want people to read my books, what's the point in writing them if they're not read. Cutting down trees is no joke, I don't want to waste paper. And I want to engage every day citizens with issues that effect us all – politics, social justice, community responsibility, and so yes, I do take note of what's happening in the market. Where are the gaps? What's my niche going to be?
I'd rather there wasn't an ongoing need to write books to educate Australians about their own First Nations peoples, but unfortunately there is still so much ignorance about the diversity of who we are in the 21st century that the gap is there to be filled. I think my women's fiction was successful because it was the first time that Aboriginal women appeared on the page as having relationships, having careers, liking to shop and experiencing all the human emotions other women have. But at the same time, the works were more politically challenging to readers because the characters were political, had a sense of social justice and were actively involved in social change.
6. Unlikely Scenario: You've been charged with civilising twenty ill-educated adolescents but you may take only five books with you. What do you take and why?
1. Too Flash by Melissa Lucashenko, because it's the perfect novel for teenage girls in particular as it considers many aspects of self-image and the significance of belonging – to groups of friends, to family, to a culture, to a place.
2. Sweet Guy by Jared Thomas because it's the story of the complex lives that young men lead, even though they might pretend they don't. It unravels the relationships they have with each, their fathers and with girls – those who steal their hearts and those who steal their loins. It's a great coming of age book for teens.
3. Post me to the Prime Minister by Romaine Moreton because it's a collection of spoken word pieces that also comes with a CD – so the group can listen and read at the same time. Moreton's poetry asks many questions, about wanting and inspiration, about renouncing poverty, about unnoticed dying wildlife. She also challenges the reader on issues of petrol sniffing, "Crimes of existence", black deaths in custody, and the reality of self-colonising. And she does this because "all writers should have a message". Unexpectedly though, Moreton's writing has a gentle, free spirit. Her language is rhythmic and delicious. Her words are soothing although her issues confronting.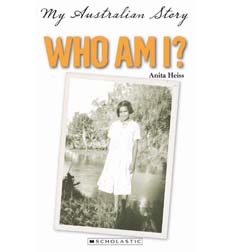 4. The Little Red Yellow Black Book: An introduction to Indigenous Australia by Bruce Pascoe, because it's an accessible / illustrated pocket-sized guide, giving an invaluable introduction to Australia's rich Aboriginal and Torres Strait Islander histories and culture. It's perfect for 'civilising twenty ill-educated adolescents'.
5. Who Am I? the diary of Mary Talence, Sydney 1937 by yours truly, because I've seen the change it makes to those young people who don't realise how fortunate they are until they understand what happened to thousands of Aboriginal children under policies of protection. The book, I would hope would say to these 'ill-educated adolescents' to pull-their-heads-in and start to understand their history.
Anita, thank you for playing.
You can follow Anita on Twitter – here (I do)
Am I Black Enough For You?

I'm Aboriginal. I'm just not the Aboriginal person a lot of people want
or expect me to be.
The story of an urban-based high achieving Aboriginal woman working to break down stereotypes and build bridges between black and white Australia.
What does it mean to be Aboriginal?
Why is Australia so obsessed with notions of identity?
Anita Heiss, successful author and passionate campaigner for Aboriginal literacy, was born a member of the Wiradjuri nation of central New South Wales, but was raised in the suburbs of Sydney and educated at the local Catholic school. She is Aboriginal – however, this does not mean she likes to go barefoot and, please, don't ask her to camp in the desert.
After years of stereotyping Aboriginal Australians as either settlement dwellers or rioters in Redfern, the Australian media have discovered a new crime to charge them with: being too 'fair-skinned' to be real Aborigines. Such accusations led to Anita's involvement in one of the most important and sensational Australian legal decisions of the 21st-century when she joined others in charging a newspaper columnist with breaching the Racial Discrimination Act. He was found guilty, and the repercussions continue.
In this deeply personal memoir, told in her distinctive, wry style, Anita Heiss gives a first-hand account of her experiences as a woman with an Aboriginal mother and Austrian father, and explains the development of her activist consciousness.
Read her story and ask: what does it take for someone to be black enough for you?
PRE-ORDER your copy of Am I Black Enough For You? by Anita Heiss
from Booktopia, Australia's No.1 Online Book Shop
About the Author: Dr Anita Heiss is the bestselling author of Not Meeting Mr Right and Avoiding Mr Right, both published by Bantam Australia. Anita was recognised for Outstanding Achievement in Literature in the 2010 and 2011 Deadly Awards for her novels Manhattan Dreaming and Paris Dreaming. A writer, satirist, activist, social commentator and occasional academic, Anita is a member of the Wiradjuri nation of central New South Wales, an Indigenous Literacy Day Ambassador and a board member of the National Aboriginal Sporting Chance Academy. She lives in Sydney and but dreams of living in New York.
About the Contributor
While still in his twenties, John Purcell opened a second-hand bookshop in Mosman, Sydney, in which he sat for ten years reading, ranting and writing. Since then he has written, under a pseudonym, a series of very successful novels, interviewed hundreds of writers about their work, appeared at writers' festivals, on TV (most bizarrely in comedian Luke McGregor's documentary Luke Warm Sex) and has been featured in prominent newspapers and magazines. ​Now, as the Director of Books at booktopia.com.au, Australia's largest online bookseller, he supports Australian writing in all its forms. He lives in Sydney with his wife, two children, three dogs, five cats, unnumbered gold fish and his overlarge book collection. His novel, The Girl on the Page, will be published by HarperCollins Australia in October, 2018.