The Booktopia Book Guru asks
Matthew Green
(aka Matthew Dicks)

author of Memoirs Of An Imaginary Friend,Unexpectedly, Milo and Something Missing
Five Facetious Questions
—————————————–
1. Every writer spends at least one afternoon going from bookshop to bookshop making sure his or her latest book is facing out and neatly arranged. How far have you gone to draw attention to your own books in a shop?
Last year I was scheduled to do a reading at a now-defunct Borders bookstore in Avon, Connecticut. When I arrived, a small crowd of would-be attendees were already gathered near the front of the store, waiting for a place to sit. I found the manager and was told that I was to sit at the small table at the front of the store and sign books for interested customers. I explained that my intention was to speak and read from my book and that the crowd already gathered was expecting the same, but the manager explained to me that this was not how they normally handled author appearances. Then he disappeared.
With more than a dozen people wanting to hear me speak, including an elderly couple who needed to sit, I asked the audience if they wouldn't mind relocating to the cafe with me. After some quick rearranging of furniture, we converted the Borders' cafe into a more traditional speak space, complete with rows of seating and a makeshift podium (a stack of books).  I spoke and answered questions for almost an hour.
I was concerned that the manager might complain about my commandeering of furniture and space in his store, but he never reappeared. After my talk, a couple of my more loyal fans moved a table from the cafe into the front display area of the store and used the signage that Borders had provided for my appearance to create a display of my books equal to those already occupying the space.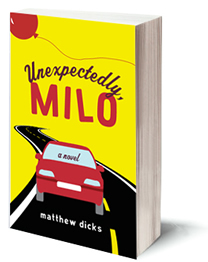 I'm not sure how long that display lasted, but it still looked great when I finally left.
2. So you're a published author, almost a minor celebrity and for some reason you've been let into a party full of 'A-listers' – what do you do?
Since very few people know what the average author looks like, I'd probably send my slightly better looking, slightly more affable friend to the party, posing as me, in order to make a better first impression than I ever could.
I'm the kind of person who has to grow on you.
3.Some write because they feel compelled to, some are Artists and do it for the Muse, some do it for the cash (one buck twenty a book) and some do it because they think it makes them more attractive to the opposite sex – why do you do write? (NB: don't say -'cause I can't sing, tap or paint!)
I write for three primary reasons:
I write in order to impress the pretty girl who I married.
I write because I have always loved storytelling, and writing allows me to engage in storytelling across the boundaries of time and space.
I write because I both fear and despise the finality of death and am in a constant struggle to establish permanence in this world. Writing provides me a modicum of permanence.
4. Have you ever come to the end of writing a particularly fine paragraph, paused momentarily, chuffed with your own genius, only to find you've been sitting at the computer nude or with your dress half-way over your head or shaving cream on your face or toilet paper sticking out the back of your undies or paused to find that you're singing We are the Champions at the top of your voice, having exchanged the words 'we are' for 'I am' and dropping an 's'?
No? Well, what's your most embarrassing writing moment?
While I'm still not sure how embarrassed I should be about the scenario, many people, including the doctors and nurses in the room at the time, found it appalling that I was working on my second novel in between contractions during the birth of our first child.
But for the record, there is a lot of time between contractions in the beginning of labour, and my wife fully supported my decision. She knew that completion of that novel would mean that she could take a year or two off from work in order to stay home with our baby, so the sooner I finished the book, the better.
She's always been a practical woman.  Besides, how much help could I really be during all that pushing?
5. Rodin placed his thinker on the loo – where and/or when do you seem to get your best ideas?
It sounds silly, but the shower is an especially productive place for ideas. It is one of the only times in my day when I am completely disconnected from outside stimuli, and it is therefore the place where ideas and solutions tend to emerge.
I take at least two showers a day.
Matthew, thank you for playing.
In Memoirs of an Imaginary Friend, Green has done something quite remarkable. He has written a book which requires an adult intellect, and adult emotions, to navigate despite presenting it entirely from the perspective of the child within us all. It is a tense psychological thriller, and in parts, it is an absolute page-turner. And he has penned a warm and moving story about life, death, love, loyalty and destiny. This is no block-buster, but if you are anything like me, Memoirs of an Imaginary Friend will leave you sadder, happier and itching to talk to someone about the ingenious, the incredible, the invisible Budo. Toni Whitmont, Editor in Chief

To read Toni's Review of Memoirs of an Imaginary Friend in full – click here.
Click here to order a copy of Memoirs Of An Imaginary Friend from Booktopia, Australia's No.1 Online Book Shop
About the Contributor
While still in his twenties, John Purcell opened a second-hand bookshop in Mosman, Sydney, in which he sat for ten years reading, ranting and writing. Since then he has written, under a pseudonym, a series of very successful novels, interviewed hundreds of writers about their work, appeared at writers' festivals, on TV (most bizarrely in comedian Luke McGregor's documentary Luke Warm Sex) and has been featured in prominent newspapers and magazines. ​Now, as the Director of Books at booktopia.com.au, Australia's largest online bookseller, he supports Australian writing in all its forms. He lives in Sydney with his wife, two children, three dogs, five cats, unnumbered gold fish and his overlarge book collection. His novel, The Girl on the Page, will be published by HarperCollins Australia in October, 2018.