A blur of tumbling and chaotic events, the past few months have felt as if my career was flashing before my eyes. My book, too.
During my years as the BBC's South Asia correspondent, I was consumed by the hunt for Osama Bin Laden, getting as close to the tip of the spear as we possibly could as the Americans tried to track him down in the tribal badlands of the border area between Afghanistan and Pakistan. Then, just as Adventures in Correspondentland was about to go to the printers, he was hunted down in Abbottobad, providing a coda for the book that was as neat as it was unexpected.
Again by strange coincidence, the book's opening scenes are set in the Kabul Intercontinental, one of the great landmarks of correspondentland, which had just come under rocket attack from the Taliban when I checked in for the first time in late 2003. Just as the presses were about to roll, the Intercontinental came under fire again, this time with much more deadly effect.
I started my career as a tabloid reporter in London – I was completely hapless, by the way – a kind of journalistic hazing ritual that suddenly loomed much larger when the phone hacking scandal exploded in London. Why, during my first week as a fully-fledged BBC reporter I was even instructed to create a bit of mischief by squirreling myself into the office of Piers Morgan – it's a bizarre story recounted in the book – which again seemed more redolent with meaning now that the former tabloid editor has been drawn into the controversy in Britain.
Some final thoughts on the ungovernabilty of Washington – a place I spent five years reporting on the presidencies of Bill Clinton and George W. Bush – foreshadow America's relegation from a AAA to an AA+ nation. Some views on the pitiful state of politics in Canberra seem more relevant by the day. My sense is that Australia's cultural cringe has been superseded by a political cringe – a view that seems to have had a lot of resonance with readers of the book.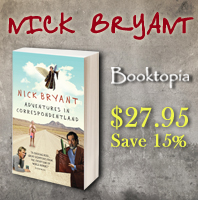 More hauntingly, I speak in the final pages about my fears as a new father covering the Queensland floods when we were skimming low over the landscape in a helicopter. Then, in August, three veteran ABC newsmen – including the correspondent, Paul Lockyer, who offered me a lot of guidance after the small town of Grantham was hit by a thunderous wall of water – were killed in a helicopter crash at Lake Eyre in South Australia.
A remarkable and heart-wrenching year of mega-news has capped a remarkable and heart-wrenching decade of mega-news. From Ground Zero to Guantanamo, from Gippsland to Grantham, Adventures in Correspondentland gives a fly-on-the wall view of what it was like to cover to it.
Click here for more details or to buy a copy of Nick's book Adventures in Correspondentland
About the Contributor