′Three things happened at the dawn of the 1990s that would change everything about how we had lived before. We graduated high school, Microsoft shipped Windows 3.0 and America started the Gulf War. We became adults in the 1990s. The start of the world gone mega. Gone global. Gone mad. We became The Casuals and this is our story.′
The Casuals is the story of the life and times of one young woman′s journey through the last two decades of the 20th century; from her pop-fuelled adolescence in the 1980s to a full-blown grunge ride in the 1990s. Sally Breen takes up the mantle of her generation, the casuals, and gives them voice. A charged and heady exploration of sex, drugs and pop culture, The Casuals is also a meditation on loss, death and grief, as the author struggles to reconcile her place in a chaotic world after the loss of her father.
FRANK MOREHOUSE :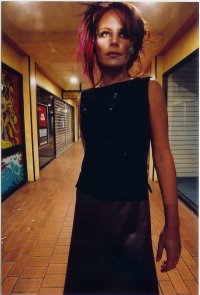 "This is a movingly sad memoir about the life of a girl (and then as a young woman) about whom songs are written, caught in the spotlight of her beauty and her personality the strength of which she does not quite understand, a spotlight which, in part, is shined intensely and confusedly by her father — it is a memoir of unquiet things told quietly but with courageous brio against a finally etched suburban background of the 1980s and 1990s and the styles, fashions and often excruciating customs by which one 'grew up' – but her work speaks to all generations, only the styles are different."
MATT CONDON : " The Casuals opens as a lyrical memoir of a suburban childhood but then transforms into something completely unique – an honest, heart wrenching, unflinching portrait of a woman's journey through what we have already dismissed as the bland final decades of the 20th Century in Australia.
Breen writes beautifully of agony and wanting, of confusion and longing. It is her story but it is everyone's story, and by the end, it sings, in all it's flawed glory, the song of life.
The great, unforgettable undertow through The Casuals is the relationship between father and daughter, parent and child, and it is this that gives the memoir an at times unbearable poignancy. The book is a stunning example of how the honest, meticulous and beautifully rendered details of a supposed ordinary life, in a set time and place, can transcend into universality. It should be applauded for it's courage, it's truth, and its reach. Breen, too, has managed to encapsulate and make her own a generation. It was only yesterday, but The Casuals has already fixed Breen and her contemporaries as timeless."
Reading about The Casuals I got to thinking about the 1990s, about grunge-lit, about coming of age novels  and memoirs and these books came to mind… (Which books have I forgotten?)

Praise by Andrew McGahan
Praise is an utterly frank and darkly humorous novel about being young in the Australia of the 1990s. A time when the dole was easier to get than a job, when heroin was better known than ecstasy, and when ambition was the dirtiest of words. A time when, for two hopeless souls, sex and dependence were the only lifelines.
'McGahan's book is a bracing slap in the face to conventional platitudes and hypocrisies.' – The Australian
'Praise is one of those books that takes a hefty bite out of a piece of subject matter, chews it to a pulp and then spits it out.' – Peter Craven
'A tour de force . . . revelation of life in the slow lane of drugs and sex and alcohol.' – The Weekend Australian Order your copy now
How It Feels by Brendan Cowell
'
I had no idea how free we were. That's how free I was.'
An old friend, a best friend, a first love and the dreamer Neil Cronk who connects them all…
Four schoolfriends are on the verge of adulthood and the next 12 hours will change the course of their lives… Friendships will be broken, virginity lost, love unleashed and secrets buried.
A decade later, one is dead, one is famous, two are getting married, and the truth is about to erupt.
Wildly funny, brutal, tender and true, How It Feels is a coming-of-age story set in Sydney's Sutherland Shire with stopovers in Bathurst and London. Brendan Cowell's electrifying debut novel is a devastating ode to youth, capturing the beauty of growing up by the beach, and the darkness which moves beneath its surface.  Because this is how it feels. Order your copy now
Candy by Luke Davies
'There were good times and bad times, but in the beginning there were more good times. When I first met Candy those were the days of juice, when everything was bountiful. Only much later did it all start to seem like sugar and blood, blood and sugar. . .
It's like you're cruising along in a beautiful car on a pleasant country road with the breeze in your hair and the smell of eucalyptus all around you. The horizon is always up there ahead, unfolding towards you, and at first you don't notice the gradual descent, or the way the atmosphere thickens. Bit by bit the gradient gets steeper, and before you realise you have no brakes, you're going pretty fucking fast.'
Candy is a love story. It is also a novel about addiction. From the heady narcissism of the narrator's first days with his new lover, Candy, and the relative innocence of their shared habit, Candy charts their decline. Candy becomes a prostitute, the narrator becomes a scam artist, and smack becomes the total and only focus of their lives. But this is not just another junkie novel: Davies is a very fine writer and Candy is confronting, painful, sexy, tender and at times darkly hilarious. A remarkable novel. Order your copy now
Loaded by Christos Tsiolkas
Families can detonate. Some families are torn apart forever by one small act, one solitary mistake. In my family it was a series of small explosions; consistent, passionate, pathetic. Cruel words, crude threats… We spurred each other on till we reached a crescendo of pain and we retired exhaused to our rooms, in tears or in fury.
Ari is nineteen, unemployed and a poofter who doesn't want to be gay. He is looking for something – anything – to take him away from his aimless existence in suburban Melbourne. He doesn't believe in anyone or anything, except the power of music. All he wants to do is dance, take drugs, have sex and change the world.
For Ari, all the orthodoxies of family, sex, politics and work have collapsed. Caught between the traditional Greek world of his parents and friends and the alluring, destructive world of clubs, chemicals and anonymous sex, all Ari can do is ease his pain in the only ways he knows how.
Written in stark, uncompromising prose, Loaded is a first novel of great passion and power. Order your copy now
He Died with a Felafel in His Hand by John Birmingham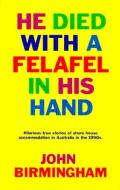 John Birmingham has lived with eighty-nine people and kept notes on all of them. This is their story.
'A rat died in the living room at King Street and we didn't know. There was at least six inches of compacted rubbish between our feet and the floor. Old Ratty must have crawled in there and died of pleasure. A visitor uncovered him while groping about for a beer!'
This best-seller led to a successful stage play and major motion picture, starring Noah Taylor and Sophie Lee. It has been published in Britain and Italy.
John Birmingham invented grunge writing before the term was known. This is the book (together with its sequel, The Tasmanian Babes Fiasco) that helped define youth culture in Australia in the 1990s, and still continues to amuse large numbers of young readers, both here and abroad. Order your copy now
In My Skin by Kate Holden
I made money I'd never imagined and I wore velvet dresses and shone in lamplight. I walked tall in crowds, knowing myself to be desired. I told people I was a prostitute, and smiled as I said it, and dared them to turn their gaze…The smile that I give when I talk about it now is, I can feel, nostalgic, provocative. A brightness comes into my eyes. And, I'm told, a hard look too.
In My Skin describes an extraordinary journey through an often hidden world of heroin and prostitution. Kate's story is one of survival and resourcefulness, and an unflinching look at the consequences of addiction. More than just a fearless and compelling narrative, In My Skin is the triumphant announcement of a new talent in Australian writing.
'Quite simply in a class of its own. In My Skin is the work of a stunningly talented writer who both graces and surpasses her material, subverting popular assumptions about addiction and prostitution while making the extraordinary seem commonplace and the ordinary deeply alluring…It makes for discomfiting, illuminating reading.' — Guardian Order your copy now
Did you come of age in the early 1990s? Let me know which books you think best represent that wonderfully grotty era…
About the Contributor
While still in his twenties, John Purcell opened a second-hand bookshop in Mosman, Sydney, in which he sat for ten years reading, ranting and writing. Since then he has written, under a pseudonym, a series of very successful novels, interviewed hundreds of writers about their work, appeared at writers' festivals, on TV (most bizarrely in comedian Luke McGregor's documentary Luke Warm Sex) and has been featured in prominent newspapers and magazines. ​Now, as the Director of Books at booktopia.com.au, Australia's largest online bookseller, he supports Australian writing in all its forms. He lives in Sydney with his wife, two children, three dogs, five cats, unnumbered gold fish and his overlarge book collection. His novel, The Girl on the Page, will be published by HarperCollins Australia in October, 2018.