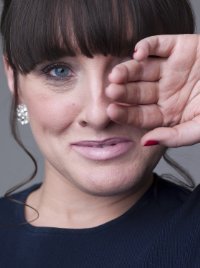 Grace Dent is onto a winner.
As we all know there are millions of twitter users worldwide. Each of these twitter users has a family, some have wives and husbands, and some even still have friends. These friends, partners and family members will soon feel, or are already feeling, neglected. They have probably come to resent the tweeter's fascination with twitter and their obvious preference for the company of their 'tweeps' over them.
In the orbit of  every tweeter there must be on average two disgruntled non-tweeters. Some must have more.
In steps Grace Dent. She knows that those on twitter are far too busy tweeting to buy a book about tweeting and she knows that the neglected wouldn't read a book on twitter if their life depended on it. What to do, what to do?
You write a book non-tweeters will buy for the tweeter in their life. Brilliant!
Be warned tweeters the world over, you will soon own a copy of  How to Leave Twitter: My Time as Queen of the Universe and Why This Must Stop by Grace Dent. Most of you will end up with multiple copies.
Will the tweeter like it? Yup. Will they admit to liking it? Nup. Will they read it in secret on the loo? Yup. Will you find out? Nup. Are Grace Dent's observations, hints and warnings interesting, or funny, or informative? Yup. Yup. Yup. Will the reader admit this? Nup.
I get the feeling Grace Dent is prepared for such muted successes.
Buy your tweeter a copy of How to Leave Twitter from Booktopia, Australia's No.1 Online Book Shop here
Here's what the publisher says about the book…
How to Leave Twitter: My Time as Queen of the Universe and Why This Must Stop by Grace Dent
A hilarious look at what's really going on in Twitterworld from journalist, TV commentator and author Grace Dent.
Three years ago columnist and author Grace Dent joined new social network site Twitter, mainly as a place to dump her surplus jokes, rant about garbage TV and post exclusive j-pegs of her hot new toenail-varnish. But as every 're-tweet' and 'Follow Friday' saw her audience figures soar by tens of thousands, Dent found herself centre-stage in an all-consuming highly addictive social network revolution. One where the gags, gossip, scandal and backstabbing literally never stop.
Here Dent takes a hilarious, acerbic look at what's really going on in Twitterworld; who's actually tweeting, who's really reading your tweets and what's behind the 140 character lies they tell. She looks at the highs and grotty lows of twitter addiction, the shameless social climbers, the friends you'll make and the ones you can't get bloody rid of, the barefaced bragging, the shameful celebstalking, and the truth about 'twanking', twitter cliques, angry 'twitchfork mobs' and dealing with trolls.
About The Author : Grace Dent is undeniably one of the hottest names in teen fiction right now. Put simply: no other author nails how young people REALLY speak and behave like Grace Dent. Grace is a comedy writer and broadcaster specialising in all aspects of 'Pop Culture'. She lives in East London with her husband, who works in the music industry. When she's not writing comedy Grace is to be found 'faffing about on the internet' or 'faffing about in the garden or kitchen' or 'just 'faffing about generally. I'm an excellent faffer.'
About the Contributor
While still in his twenties, John Purcell opened a second-hand bookshop in Mosman, Sydney, in which he sat for ten years reading, ranting and writing. Since then he has written, under a pseudonym, a series of very successful novels, interviewed hundreds of writers about their work, appeared at writers' festivals, on TV (most bizarrely in comedian Luke McGregor's documentary Luke Warm Sex) and has been featured in prominent newspapers and magazines. ​Now, as the Director of Books at booktopia.com.au, Australia's largest online bookseller, he supports Australian writing in all its forms. He lives in Sydney with his wife, two children, three dogs, five cats, unnumbered gold fish and his overlarge book collection. His novel, The Girl on the Page, will be published by HarperCollins Australia in October, 2018.