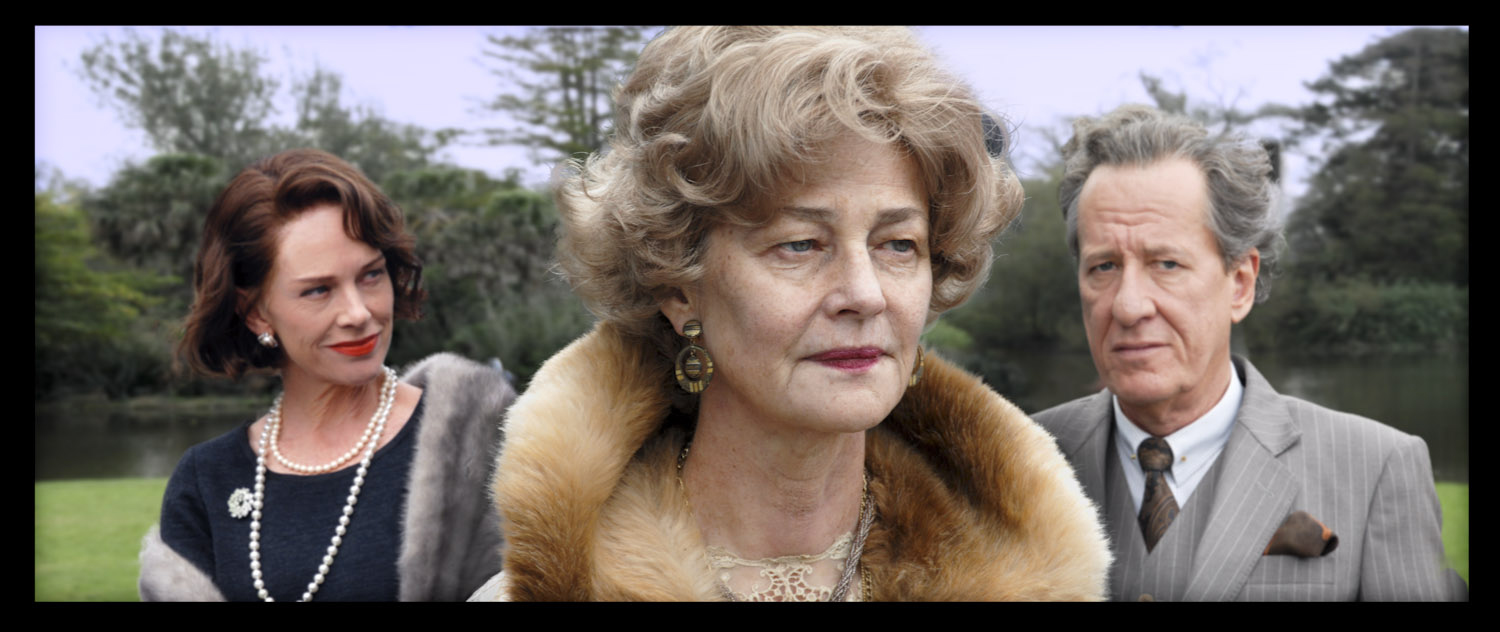 UPDATE:
THE EYE OF THE STORM by Patrick White
Patrick White's seminal book about family relationships and the stuff of love and hate has been made into a film which will be screening from September 15. You can read all about the book, and see the film trailer, here. The film stars Charlotte Rampling, Geoffrey Rush and Judy Davies.
---
FILM: The Eye of the Storm
Directed by Fred Schepisi
In a Sydney suburb, two nurses, a housekeeper and a solicitor attend to Elizabeth Hunter as her expatriate son and daughter convene at her deathbed. In dying, as in living, Mrs Hunter remains a formidable force on those around her. It is via Mrs Hunter's authority over living that her household and children vicariously face death and struggle to give consequence to life.
Estranged from a mother who was never capable of loving them Sir Basil, a famous but struggling actor in London and Dorothy, an impecunious French princess, attempt to reconcile with her. In doing so they are reduced from states of worldly sophistication to floundering adolescence.
The children unite in a common goal – to leave Australia with their vast inheritance. Moving through Sydney's social scene, they search for a way to fulfil their desire. Using the reluctant services of their family lawyer Arnold Wyburd, a man long in love with Mrs Hunter, they scheme to place their mother in a society nursing home to expedite her demise.
Panic sets in as the staff sense the impending end of their eccentric world. Mrs Hunter confesses her profound disappointment at failing to recreate the state of humility and grace she experienced when caught in the eye of a cyclone fifteen years earlier.
For the first time in their lives, the meaning of compassion takes the children by surprise. During a ferocious storm Mrs Hunter finally dies, not through a withdrawal of will but by an assertion of it. In the process of dying she re-lives her experience in the cyclone. Standing on a beach, she is calm and serene as devastation surrounds her.
KEY CAST:
Charlotte Rampling – Mrs Hunter; Judy Davis – Dorothy; Geoffrey Rush – Basil; Alexandra Schepisi – Flora; John Gaden – Arnold Wyburd; Helen Morse – Lotte; Colin Friels – Athol Shreve; Robyn Nevin – Lal
In cinemas around Australia from September 15.
To view a higher quality trailer go to : The Eye of the Storm Trailer from Greg Read on Vimeo.
BOOK: The Eye of the Storm
by Patrick White
Elizabeth Hunter, an ex-socialite, has a mystical experience during a summer storm which transforms all her relationships: her existence becomes charged with a meaning which communicates itself to those around her. From this simple scenario Patrick White unfurls a monumental exploration of the tides of love and hate, comedy and tragedy, impotence and longing that fester within family relationships.
In the Sydney suburb of Centennial Park, three nurses, a housekeeper and a solicitor attend to Elizabeth as her son and daughter convene at her deathbed. But, in death as in life, Elizabeth remains a destructive force on those who surround her.
THE EYE OF THE STORM is a savage exploration of family relationships – and the sharp undercurrents of love and hate, comedy and tragedy, which define them.
Click here to buy yourself a copy of The Eye of the Storm
AUTHOR: Patrick White was born in England in 1912. He was taken to Australia (where his father owned a sheep farm) when he was six months old, but educated in England, at Cheltenham College and King's College, Cambridge. He settled in London, where he wrote several unpublished novels, then served in the RAF during the Second World War. He returned after the war to Australia, where he became the most considerable figure in modern Australian literature before being awarded the Nobel Prize for Literature in 1973. His position as a man of letters was controversial, provoked by his unpredictable public statements and his belief that it is eccentric individuals who offer the only hope of salvation. Technically brilliant, he is one modern novelist to whom the oft-abused epithet 'visionary' can safely be applied. He died in September 1990.
About the Contributor