The Booktopia Book Guru asks
Sebastian Barry
author of On Canaan's Side and many more
Ten Terrifying Questions
——————–
1. To begin with why don't you tell us a little bit about yourself – where were you born? Raised? Schooled?
I was born in Dublin city in a house next door to Elizabeth Bowen's father's townhouse. Raised mostly in Ireland, went to the Catholic University School, and Trinity College, Dublin.
2. What did you want to be when you were twelve, eighteen and thirty? And why?
At 12 I wanted to be a jockey, to satisfy my grandfather's betting ambitions, but by eighteen I was too tall and wanted to be Bob Dylan instead, and by thirty I wanted to feel less crazy about not fulfilling either of the above, and just write.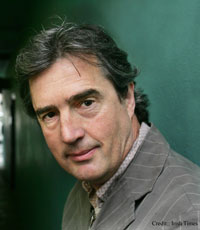 3. What strongly held belief did you have at eighteen that you do not have now?
That I would never be married and have children.
4. What were three works of art – book or painting or piece of music, etc – you can now say, had a great effect on you and influenced your own development as a writer?
The films of Jacques Tati, because they are both silent and full, Samuel Beckett's Godot, Bruch's violin concerto (the sentimental one).
5. Considering the innumerable artistic avenues open to you, why did you choose to write a novel?
I've also written plays, and a few poems, but lately the novel seems the most natural way to work somehow. And there are no terrifying Opening Nights. (BBGuru: Excellent. Love it.)
6. Please tell us about your latest novel…
It's called On Canaan's Side and is about Lilly Bere, who fled to America in the nineteen twenties, and is now an old woman whose grandson has just taken his own life. She's a sister of Willie Dunne from 'A Long Long Way', and of Annie from 'Annie Dunne' (previous novels).
Click here to order a copy of On Canaan's Side from Booktopia.
(BBGuru: Publisher synopsis – From the two-time Man Booker shortlisted author of The Secret Scripture comes a magnificent new novel, spanning one woman Lilly Bere's lifetime, lived between Ireland and America.
As they used to say in Ireland, the devil only comes into good things.
Narrated by Lilly Bere, On Canaan's Side opens as she mourns the loss of her grandson, Bill. The story then goes back to the moment she was forced to flee Dublin, at the end of the First World War, and follows her life through into the new world of America, a world filled with both hope and danger.
At once epic and intimate, Lilly's narrative unfurls as she tries to make sense of the sorrows and troubles of her life and of the people whose lives she has touched. Spanning nearly seven decades, it is a novel of memory, war, family-ties and love, which once again displays Sebastian Barry's exquisite prose and gift for storytelling. )
7. What do you hope people take away with them after reading your work?
That every life, no matter how obscure or seemingly unimportant, weighs heavily in the weighing-scales of God, or whoever or whatever has us here.
8. Whom do you most admire in the realm of writing and why?
I have great admiration for Joseph Conrad because he is an instance of numinous language coming mysteriously from within. I also admire your Alex Miller, who seems to me the definition of a writer.
9. Many artists set themselves very ambitious goals. What are yours?
My goal was always to be able to keep going. 30 years and more of writing behind me, and if I can steal another measure of years from the hand of time, that seems ambition enough.
10. What advice do you give aspiring writers?
The above. Keep going.
Sebastian, thank you for playing.
About the Contributor
While still in his twenties, John Purcell opened a second-hand bookshop in Mosman, Sydney, in which he sat for ten years reading, ranting and writing. Since then he has written, under a pseudonym, a series of very successful novels, interviewed hundreds of writers about their work, appeared at writers' festivals, on TV (most bizarrely in comedian Luke McGregor's documentary Luke Warm Sex) and has been featured in prominent newspapers and magazines. ​Now, as the Director of Books at booktopia.com.au, Australia's largest online bookseller, he supports Australian writing in all its forms. He lives in Sydney with his wife, two children, three dogs, five cats, unnumbered gold fish and his overlarge book collection. His novel, The Girl on the Page, will be published by HarperCollins Australia in October, 2018.