The Booktopia Book Guru asks
Tristan Bancks
author of My Life and Other Stuff I Made Up and Galactic Adventures: First Kids in Space
Ten Terrifying Questions
 ————————-
1. To begin with why don't you tell us a little bit about yourself – where were you born? Raised? Schooled?
The Blue Mountains outside of Sydney.
2. What did you want to be when you were twelve, eighteen and thirty? And why?
Twelve – an actor
Eighteen – an actor and writer.
Thirty – a writer.
I've always loved stories – writing them, performing them, visualising them, reading them. Story has been a unifying theme for me.
3. What strongly held belief did you have at eighteen that you do not have now?
I think I equated living a good life / being happy with having lots of money. I now understand that money is important in terms of meeting basic needs but having more 'stuff' no longer interests me. I think experiences are worth investing in, though.
4. What were three works of art – book or painting or piece of music, etc – you can now say, had a great effect on you and influenced your own development as a writer?
1) I like the collision of different media in the art of Robert Rauschenberg. It feels a bit like the fusion of words, images, video, music and the web that informs my writing practice.
2) I love stories about kids forced to be resourceful, independent courageous and determined, so Jean Craighead George's My Side of the Mountain and Gary Paulsen's Hatchet are favourites and will continue to influence me as a writer.
3) Unreal – Paul Jennings. This is the first book that I remember buying as a kid, a conscious decision by me. I shared the book with my cousin and we would each take custody for a school-term. I devoured these quirky, unexpected short stories. Reading them was total joy. This book recently inspired the writing of my own book of short stories, My Life and Other Stuff I Made Up.
5. Considering the innumerable artistic avenues open to you, why did you choose to write a novel?
I write because I can't stop writing just as painters feel compelled to paint. I have always written, since I was very young. It's how I make sense of the world. I write lists and short stories and scripts and books and ideas and quotes. I write them on serviettes and my hand and notebooks and laptops and scraps of paper and I dictate them into my iPhone. Writing chose me, I think.
6. Please tell us about your latest novel…
I have been working on two books for the past two years and they are both released in July:
Galactic Adventures: First Kids in Space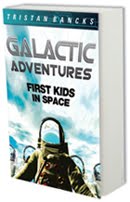 A fast-paced story of courage and determination for middle-readers about civilian space travel and a kid whose only dream is to go into space.
It's inspired by the new space travel movement where regular people, non-astronauts, are travelling into space (for between $200,000 and $35 million. The book is released fifty years since the first human travelled into space.
(BBGuru: from the publisher…  DASH CAMPBELL HAS ONLY EVER HAD ONE DREAM . . .
TO GO TO SPACE.
Now he and four others have been given the chance to become the first kids ever to leave our planet. From building rockets behind his family's laundromat in Australia to attending a hardcore Space School in the US, Dash is a long way from home. And he still has an intense month of training ahead before he can even think about that glorious moment of blasting out of Earth's atmosphere and living his dream.
But does Dash have what it takes to survive Space School? Gruelling physicals, fierce competition, media attention, medicals, the Vomit Comet, a skydive from 4000 metres and an instructor who despises him. Can he push through his deepest fears and make history? Does he have the right stuff to go to space?)
My Life and Other Stuff I Made Up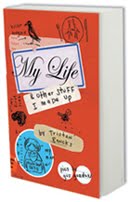 A book of weird, funny, sometimes gross short stories using events from my life as a jumping-off point for unbelievable tales.
(BBGuru: from the publisher…
A nail-biting – no, make that toe-biting – thrill ride through one boy's life.
Have you ever been kissed by a dog? Ever had to eat Vegemite off your sister's big toe? Have you had a job delivering teeth? Has a bloodthirsty magpie ever been out to get you? Ever woken up to discover that everything hovers? And have you eaten 67 hot dogs in ten minutes?
I have. I'm Tom Weekly. This book is full of my stories, jokes, cartoon characters, ideas for theme park rides and other stuff I've made up. It's where I pour out whatever's inside my head. It gets a bit weird sometimes but that's how I roll.)
 7. What do you hope people take away with them after reading your work?
Galactic Adventures: A sense of the importance of resilience, resourcefulness, bravery.
My Life and Other Stuff I Made Up: The value of creativity, storytelling and believing in your own ideas. Also, never to eat Vegemite off your sister's big toe.
8. Whom do you most admire in the realm of writing and why?
Ernest Hemingway because he says so much in so few words.
Stephen King because he wrote one of the great coming-of-age stories of all time in The Body.
J.D. Salinger for writing Catcher which moved me more than any other story.
Roald Dahl for making me laugh and wonder.
9. Many artists set themselves very ambitious goals. What are yours?
I now understand the title of this questionnaire. My goal was to make a living writing books for children and speaking about my stories. I am able to do that at the moment.
I want to become a better writer. I want to write children's books at the crossroads of genre and meaning – super-engaging reads that explore ideas that I'm interested in and that kids can relate to. If I continue to challenge myself with each book, asking questions that I don't have the answers to, I will be happy on that journey.
I also want to continue to experiment with inventive ways to mash fiction, the web, film and live events.
10. What advice do you give aspiring writers?
Write every day, even if it's for five minutes.
Read a lot in the area that you're writing in. (For me, junior and Middle-grade novels.)
Enjoy it.
Get off the computer sometimes to reinvigorate the process.
Visit the 'Create' page on my site. www.tristanbancks.com
Tristan, thank you for playing.
About the Contributor
While still in his twenties, John Purcell opened a second-hand bookshop in Mosman, Sydney, in which he sat for ten years reading, ranting and writing. Since then he has written, under a pseudonym, a series of very successful novels, interviewed hundreds of writers about their work, appeared at writers' festivals, on TV (most bizarrely in comedian Luke McGregor's documentary Luke Warm Sex) and has been featured in prominent newspapers and magazines. ​Now, as the Director of Books at booktopia.com.au, Australia's largest online bookseller, he supports Australian writing in all its forms. He lives in Sydney with his wife, two children, three dogs, five cats, unnumbered gold fish and his overlarge book collection. His novel, The Girl on the Page, will be published by HarperCollins Australia in October, 2018.