The Booktopia Book Guru asks
Larry Writer
author of Bumper: The Life and Times of Frank 'Bumper' Farrell, Razor and more…,
Ten Terrifying Questions
———————-
1. To begin with why don't you tell us a little bit about yourself – where were you born? Raised? Schooled?
I was born in Sydney in 1950, and went to seven different primary schools, including Darlinghurst Public in the heart of Bumper Farrell's beat, and then completed my secondary education at Blakehurst High School.
2. What did you want to be when you were twelve, eighteen and thirty? And why?
When I was 12 I wanted to play lock forward for St George, although I never quite worked out how I was going to unseat Johnny Raper from the position. At 18 I didn't have a clue what I wanted to do (although my mother did: "Any job in a bank when you can wear a nice tie will be perfect.")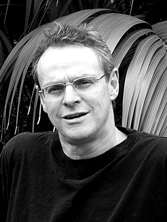 At 30 I wanted to write fiction… until I started reading F Scott Fitzgerald and, realising with a jolt that I could never begin to compete with the fiction masters, I used my journalistic training to throw myself into the world of non-fiction.
3. What strongly held belief did you have at eighteen that you do not have now?
That being rich and famous was important and something to strive for and ruthlessly attain. I now realise that all that matters is trying to be decent, kind and loving. A cliché, but there's nothing truer.
4. What were three big events – in the family circle or on the world stage or in your reading life, for example – you can now say, had a great effect on you and influenced you in your career path?
Having the chance to be European bureau chief for both Australian Consolidated Press and Time Inc Australia in the '80s and '90s respectively was personally and professionally exhilarating and made me appreciate travelling which, with music and reading and films, will give me pleasure my whole life.
Meeting my wife Carol and having beautiful children who rely on me has generated a fierce work ethic (which is essential for a freelance writer). Learning to play the ukulele: it won't make me rich, but I'll never be sad.
5. Considering the innumerable electronic media avenues open to you – blogs, online newspapers, TV, radio, etc – why have you chosen to write a book? aren't they obsolete?
I LOVE books. I love how they feel and look and smell and glow from my bookshelves. Nothing so beautiful could ever be obsolete.
6. Please tell us about your latest book, Bumper: The Life and Times of Frank 'Bumper' Farrell…
It's a biography of the legendary policeman and rugby league champion Frank "Bumper" Farrell, a man who was as compassionate as he could be intimidating and eccentric and who lived life by his own rules at a compelling time and place in Australian history, the 1930s-'80s in inner-Sydney.
The sprawling saga of a legendary Australian character.
Frank Bumper Farrell was the roughest, toughest street cop and leader of a vice squad Australia has ever seen. Strong as a bull, with cauliflowered ears and fists like hams, Bumper s beat from 1938 to 1976 was the most lawless in the land – the mean streets of Kings Cross and inner Sydney. His adversaries were such notorious criminals as Abe Saffron, Lennie McPherson, Tilly Devine and Kate Leigh and their gangs as well as the hooligans, sly groggers, SP bookies, pimps and spivs.
Criminals knew just where they stood: he would catch them, he would hurt them, and then he would lock them away. He was a legendary Rugby League player for Newtown, and represented Australia against England and New Zealand.
Here s Bumper Farrell in brutal, passionate and hilarious action . . . saving Ita Buttrose from a stalker; sparking a national scandal when accused of biting off a rival player s ear; beating Lennie McPherson so severely the hard man cried; single-handedly fighting a mob of gangsters in Kings Cross and winning; terrorising the hoons who harassed the prostitutes in the brothel lanes by driving over the top of them; commandeering the police launch to take him home to his beach home, diving overboard in full uniform and catching a wave to shore; dispensing kindness and charity to the poor.
Bumper Farrell: lawman, sportsman, larrikin . . . legend.)
7. If your work could change one thing in this world – what would it be?
Inspire readers to treasure what's gone before and made us the way we are. I like to give readers a glimpse, even if refracted through my perceptions and insights and selective research, into people and places and events they may not have known about, or known only a little about. In a humble way I try to keep long-gone people and locations as alive as the present.
8. Whom do you most admire and why?
Anyone who inspires me to be a better human being. The list is long and changes every day. Today it's my wife, it's a man I read about who found $50,000 in cash and handed it in, and it's Jimmy Buffett who, at his concert at the Opera House last night, made me feel that having fun and feeling good is a noble end in itself.
9. Many people set themselves very ambitious goals. What are yours?
For people to read and enjoy Bumper: The Life and Times of Frank 'Bumper' Farrell, and for the Underbelly writers, actors and directors to turn my book Razor into a rich and chilling evocation of Sydney past when it screens this September.
10. What advice do you give aspiring writers?
Make deep and questing research the foundation of everything you write. An author who has done his or her homework will never have writer's block. And, have discipline: write every day and never cut corners.
Larry, thank you for playing.
About the Contributor
While still in his twenties, John Purcell opened a second-hand bookshop in Mosman, Sydney, in which he sat for ten years reading, ranting and writing. Since then he has written, under a pseudonym, a series of very successful novels, interviewed hundreds of writers about their work, appeared at writers' festivals, on TV (most bizarrely in comedian Luke McGregor's documentary Luke Warm Sex) and has been featured in prominent newspapers and magazines. ​Now, as the Director of Books at booktopia.com.au, Australia's largest online bookseller, he supports Australian writing in all its forms. He lives in Sydney with his wife, two children, three dogs, five cats, unnumbered gold fish and his overlarge book collection. His novel, The Girl on the Page, will be published by HarperCollins Australia in October, 2018.