Way back when, when I was working in bricks and mortar bookshops, I was constantly bemused by the (dare I say it?) mainly blokes who would wander in on,
say, December 24, looking dazed and confused. Poor souls! They would need to be taken firmly in hand and told to buy whatever was left on the shelves, which they would duly do, paying in cash, and then requesting at the last minute, gift wrapping.
They were lucky to escape the shop alive. At the same time, it was not a very satisfying shopping experience for them because, strangely enough, on December 24, we never had left the limited edition signed copy of the one book that their partners were relying on as proof of their undying devotion or the boxed set of the must-have teen author that was going to be the next "people who love blah blah blah" group sensation on Facebook by the time they unloaded their parcels from the car. Serving them, I knew that Christmas day would be one of cruel disappointment for the recipients, and simmering resentment for them.
Enter Booktopia, oh happy days!
The choosing, buying, wrapping, delivery process could not be easier and best of all, you don't have to deal with the horror of the Westfield carpark, or that crestfallen feeling when you realise that your choice of MasterChef 2 was perhaps not the right choice for your new in-law who is in fact a breatharian.
Best of all, we have designed everything so that you no longer have to be perplexed by Christmas.
You've got five choices:
If you want something that is freshly hatched, go here – the pick of December releases all culled down to the best of the best.
If you want to choose from the very best of the last few months, neatly sorted into types of fiction, classes of non fiction, the very best of the classy coffee table books sorted by prices, books about Christmas, a terrific range for kids of all ages, go here.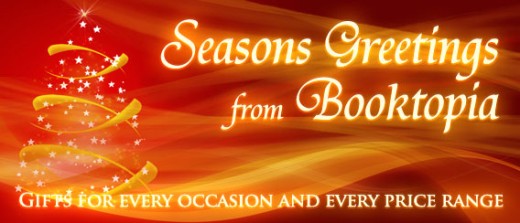 If that is too hard, and you want a range of books that I can personally vouch for, my gift guide is the answer.

If you just want to see up-to-the-minute books for kids of all ages, go here.
And if you are really perplexed, let our Bookguru hand feed you – he has every dysfunctional relationship sorted (and no, you really don't want to meet him).
Or… How to shop for everyone you know in next to no time!
Think of the Booktopia Book Guru as your Evil Genius Twin and let him do the choosing for you – all you need to do is click on the books you want and buy them. Too easy. No really, it's too easy. I should make it a little harder… just kidding – have fun!
No more excuses, do it today! We can gift wrap, we can deliver as many books as you like within Australia for a song.
There is only one "but"….
About the Contributor