The Booktopia Book Guru asks
Tim 'Rosso' Ross
Ten Terrifying Questions
———————————————–
1. To begin with why don't you tell us a little bit about yourself – where were you born? Raised? Schooled?
I grew up on the Mornington Peninsula in Victoria. I went to a fairly ordinary boys school whose major claim to fame was that the lads from Australian Crawl started their band in the school hall. I stumbled through university, shamefully thrown out of a Marketing degree at Swinburne before settling into a BA at La Trobe majoring in history, theatre and drama.
2.What did you want to be when you were twelve, eighteen and thirty? And why?
When I was 12 I was rather keen to be the captain of the Australian cricket team. At 18 I simply wanted to not be living with my parents. Some wanted to go overseas, I just wanted to move to the city and have my own pad. When thirty I desperately wanted to be thinner.
3.What strongly held belief did you have at eighteen that you do not have now?
I firmly believed that anything was possible at 18, that if you put your mind to anything you can succeed. Now I believe that it is still possible but I also think the forces against you are stronger.
4.What were three works of art – book, painting, piece of music, etc – you can now say, had a great effect on you and influenced your own development as a writer?
I'm not sure that anything inspired the assorted rabble of stories that masquerades as my book Mum Had a Kingswood but there are certain things that greatly affect me as a human being.
You Am I's first album Sound As Ever kick-started my love affair with rock music again after a couple of years of avoiding any deep interaction with music. It's a raw album of passion and energy that turns on a switch in young men's minds.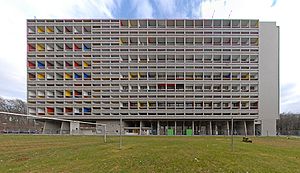 I drove 200kms out of our way in France to visit Le Corbusier's modernist Unite d'Habitation in Marseilles. His stunning prototype of the apartment block of the future built in 1942 had a profound effect on me. Now sitting in a ghetto area, a failed experiment, it is one of the most beautiful buildings I have ever seen.
When I was a teenager and I picked up The Catcher in the Rye, it had a voice that resonated with me unlike anything I'd read before. Despite it being an "old" book it had a spirit that I could relate to. God are you there, it's me Margaret didn't quite cut it with me.
Praise by Andrew McGahan was the first book I read that I totally related to – the words stuck on my skin like clothes I was made to wear.
5.Considering the innumerable artistic avenues open to you, why did you choose to write a book?
I'm a lousy painter, a semi-failed musician and not square-jawed enough to become an actor so there wasn't much left apart from landscape gardening.
6.Please tell us about your latest book…
Mum Had a Kingswood is a potted memoir and assortment of funny stories about growing up in the suburbs, living in share houses and playing in rock bands, doing stand-up comedy and basically being one of those people that weird things happen to. Thrown in for good measure is a bunch of random eclectic musings which can be best described as "Things I reckon are funny".
7.What do you hope people take away with them after reading your work?
Well, they can start with their rubbish. In a perfect world I simply hope people have a really good laugh, not think they have wasted their 29 bucks and think I'm an OK sort of guy.
8.Whom do you most admire in the realm of writing and why?
I've met a load of people along the way who wanted to write a novel and didn't. One of these was a cameraman on one of my early TV shows. Our paths crossed again when he shared a house with a friend. I always asked about him and he was always "working on his writing." To me it seemed like a far fetched plan, a really tough thing to do.
Years later his book A Fraction of the Whole came out. I devoured it and thought it was simply brilliant. So did pretty much everybody else. So, Steve Toltz, you are my hero.
9.Many artists set themselves very ambitious goals. What are yours?
Mostly, 6 of them before halftime.
10.What advice do you give aspiring writers?
Just type. Also, keep a book with notes in it and collate thoughts in your head when you run, walk or are on the train – it is as, or if not more, important as putting pen to paper. If that doesn't work, put a sign on your fridge that says, "If that dingbat Rosso can write a book, anybody can."
Rosso, thank you for playing.
Mum had a Kingswood : Tales from the Life and Times of Rosso
When Rosso left his award-winning, ratings-smashing breakfast radio show at the end of 2009, we all wondered what he would do next. The answer? He wrote a book!
And the end result is a very funny book telling all sorts of tales. There are warm, fuzzy childhood stories growing up in suburban Melbourne with billycarts and milkbars, indoor sports , first driving experiences and the family moving to Fiji for 6 months; teenage stories of girls, fires in dad's workshop, mandarin liqueur, and the awkward years of bad clothes and bad hair that were the 80s; student tales of share-house madness (and how to get rid of mice!), being in a pub rock band, mates, more cars and Uni coming off second best.
And then there's the moment when his stand-up comedy career took off, and how it led to him entertaining the nation on TV and radio. Stories from the early days working with Merrick, the rock stars and celebrities he met (and sometimes offended!): being patted like a Labrador by John Travolta, fighting about the definition of 'chick flick' with Cameron Diaz; the enthusiastic Sylvester Stallone; pub crawling with Bryan Brown; swearing at a former Vice President of the United States; and THAT orange Mambo shirt worn by David Bowie…
In between all these great anecdotes of life there are classic rants and raves, random ideas and other 'stuff'! A mind dump of information about technology, Nigerian loan scams, relationships, party games, reality TV show and movie sequel ideas, how to bring a bit of celebrity into your own life and understanding Gen Y.
Retail Price: $29.99
Booktopia Price: $23.95  SAVE 20% Click here to order your copy now…
About the Contributor
While still in his twenties, John Purcell opened a second-hand bookshop in Mosman, Sydney, in which he sat for ten years reading, ranting and writing. Since then he has written, under a pseudonym, a series of very successful novels, interviewed hundreds of writers about their work, appeared at writers' festivals, on TV (most bizarrely in comedian Luke McGregor's documentary Luke Warm Sex) and has been featured in prominent newspapers and magazines. ​Now, as the Director of Books at booktopia.com.au, Australia's largest online bookseller, he supports Australian writing in all its forms. He lives in Sydney with his wife, two children, three dogs, five cats, unnumbered gold fish and his overlarge book collection. His novel, The Girl on the Page, will be published by HarperCollins Australia in October, 2018.