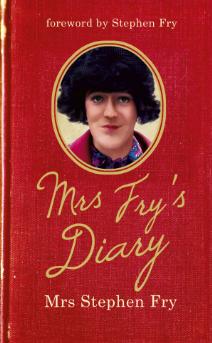 Stephen Fry`s secret wife speaks out at last…
Enjoyed a nice cuppa this morning with a HobNob & Jeremy Kyle. There was a woman on there who`d been married 16 years without realising her husband was gay. Extraordinary! Which reminds me, it`s our 16th anniversary in a few weeks. What a coincidence.
Stephen Fry – actor, writer, raconteur and wit. Cerebral and sophisticated, a true renaissance man.
Or is he?
Finally, his secret double life – the womanizing, the window-cleaning, the kebabs, the karaoke – is exclusively revealed by Edna, his devoted wife and mother of his five, six or possibly seven children. These diaries take us through a year in the life of an unwitting celebrity wife, and are rumoured to include:
– scandalous sexual shenanigans
– advice on childcare
– 101 things to do with a tin of Spam.
'A good diary should be like a good husband – a constant companion, a source of inspiration and, ideally, bound in leather.' – Edna Fry
`I never travel without my diary. One should always have something sensational to read in the train.` – Oscar Wilde
Follow Mrs Stephen Fry on TWITTER – here…
About the Contributor
While still in his twenties, John Purcell opened a second-hand bookshop in Mosman, Sydney, in which he sat for ten years reading, ranting and writing. Since then he has written, under a pseudonym, a series of very successful novels, interviewed hundreds of writers about their work, appeared at writers' festivals, on TV (most bizarrely in comedian Luke McGregor's documentary Luke Warm Sex) and has been featured in prominent newspapers and magazines. ​Now, as the Director of Books at booktopia.com.au, Australia's largest online bookseller, he supports Australian writing in all its forms. He lives in Sydney with his wife, two children, three dogs, five cats, unnumbered gold fish and his overlarge book collection. His novel, The Girl on the Page, will be published by HarperCollins Australia in October, 2018.