Thirteen years ago, Moab is my Washpot, Stephen Fry's autobiography of his early years, was published to rave reviews and was a huge bestseller. In those thirteen years since, Stephen Fry has moved into a completely new stratosphere, both as a public figure, and a private man. Now he is not just a multi-award-winning comedian and actor, but also an author, director and presenter. In January 2010, he was awarded the Special Recognition Award at the National Television Awards.
Much loved by the public and his peers, Stephen Fry is one of the most influential cultural forces in the country. This dazzling memoir promises to be a courageously frank, honest and poignant read. It will detail some of the most turbulent and least well known years of his life with writing that will excite you, make you laugh uproariously, move you, inform you and, above all, surprise you.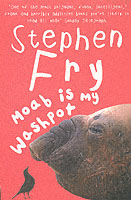 Follow Stephen Fry on Twitter – click here

The Fry Chronicles : An Autobiography by Stephen Fry
Retail Price: $39.95
Our Price: $31.95

SAVE 20%
About the Contributor
While still in his twenties, John Purcell opened a second-hand bookshop in Mosman, Sydney, in which he sat for ten years reading, ranting and writing. Since then he has written, under a pseudonym, a series of very successful novels, interviewed hundreds of writers about their work, appeared at writers' festivals, on TV (most bizarrely in comedian Luke McGregor's documentary Luke Warm Sex) and has been featured in prominent newspapers and magazines. ​Now, as the Director of Books at booktopia.com.au, Australia's largest online bookseller, he supports Australian writing in all its forms. He lives in Sydney with his wife, two children, three dogs, five cats, unnumbered gold fish and his overlarge book collection. His novel, The Girl on the Page, will be published by HarperCollins Australia in October, 2018.