The Booktopia Book Guru asks
Tony Park
author of
Ten Terrifying Questions
1. To begin with why don't you tell us a little bit about yourself – where were you born? Raised? Schooled?
I was born in Taupo, on New Zealand's north island to an Aussie mum and a Welsh dad. We moved to Australia when I was three. I have three passports – Australian, New Zealand and British because when you travel in Africa you can never have too many passports. I was raised in Campbelltown in the south western suburbs of Sydney and I went to school at St Gregory's College Campbelltown which was better known for producing Rugby League Players than writers.
2. What did you want to be when you were twelve, eighteen and thirty? And why?
At 12 I wanted to be an army helicopter pilot because I was fascinated by flying and the military, but as I got older I realised that because I was no good at maths or science I'd never be a pilot. At 18 I wanted to be a Federal Police undercover narcotics detective, thanks to Miami Vice. Unfortunately (or fortunately as it turned out) I wasn't heavy enough to join the police.
At thirty I was a PR consultant and I knew that I didn't want to do that for the rest of my life. It was a good job but by then I knew that I really wanted to write books.
3. What strongly held belief did you have at eighteen that you do not have now?
The belief that I wanted to be a Federal Police narcotics detective! All I ever really wanted to do, to be honest, is to write a book.
4. What were three works of art – book, painting, piece of music, etc – you can now say, had a great effect on you and influenced your own development as a writer?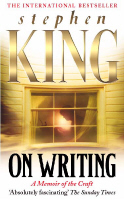 The book, Hold My Hand I'm Dying, by John Gordon-Davis. This was the first novel to get me interested in Africa, long before I first went there. It's possibly the best book about 'Africa' I've ever read.
I've always been a big fan of the Rolling Stones and one of my favourite songs is 'Time is on my Side'. I've found in life that it's best not to be discouraged if things don't go according to plan, because as long as you follow your dream and stay true to yourself, Time probably is on your side.
And finally, the book 'On Writing – A Memoir of the Craft' by the horror/thriller writer Stephen King. This is without doubt the best, most useful, most practical book on how to write fiction that has ever been written.
5. Considering the innumerable artistic avenues open to you, why did you choose to write a novel?
I did like drawing and painting when I was younger but I figured there was no money in it. I later found out that there was not much money in writing, either, but I can write every day for months at a time. I don't know if I could paint or draw every day for that long. You have to love doing this stuff, or else it would drive you mad.
6. Please tell us about your latest novel…
The Delta is set in the wildlife paradise of the Okavango Delta in Botswana. A group of rich safari lodge operators and environmentalists band together to fight a proposed dam on the Okavango River, which threatens to destroy the delta. They hire a female mercenary, Sonja Kurtz, to blow up the dam. The book touches on some real issues – there actually was a plan to dam this river a few years ago and water use is becoming a major issue in Africa, as it is in Australia.
7. What do you hope people take away with them after reading your work?
Hey, it's a mass market mainstream fiction thriller. First and foremost I want people to simply enjoy the book! However, there are also some messages in there about environmental issues and the fragile nature of African politics for people who want to dig a bit deeper.
8. Whom do you most admire in the realm of writing and why?
Nelson DeMille for his unbelievably convincing and witty dialogue; Ken Follet for his story-telling ability; Aussie writer Peter Watt for being a great mate and supporter of other authors (and a damn fine writer); and South African crime writer Deon Meyer for his superb characterisation.
9. Many artists set themselves very ambitious goals. What are yours?
All I want is to be able to keep writing until I die. I have a dream job – in fact I don't consider it a job because it's not like working. I'm doing what I love and I'm getting paid for it, so I think I've actually achieved my goal.
(Oh, yeah, one more goal: to have Charlize Theron star in the movie version of one of my books and for me to have a walk-on part as the pool boy).
10. What advice do you give aspiring writers?
Like the shoe people say, Just Do It. You can find a million reasons not to start or not to finish. You should really only write if you love doing it. The risks of never being published are too high and the chance of reward too low to do it for any other reason. But if you write for yourself and you write for fun, you can't go wrong.
Thank you for playing.
Tony Park answered my Five Facetious Questions, too – click here to read his answers.
About the Contributor
While still in his twenties, John Purcell opened a second-hand bookshop in Mosman, Sydney, in which he sat for ten years reading, ranting and writing. Since then he has written, under a pseudonym, a series of very successful novels, interviewed hundreds of writers about their work, appeared at writers' festivals, on TV (most bizarrely in comedian Luke McGregor's documentary Luke Warm Sex) and has been featured in prominent newspapers and magazines. ​Now, as the Director of Books at booktopia.com.au, Australia's largest online bookseller, he supports Australian writing in all its forms. He lives in Sydney with his wife, two children, three dogs, five cats, unnumbered gold fish and his overlarge book collection. His novel, The Girl on the Page, will be published by HarperCollins Australia in October, 2018.